Student Success Story
Grebe Scholarship Endowment Helps Sarah Goodheart Prepare for Medical School After AU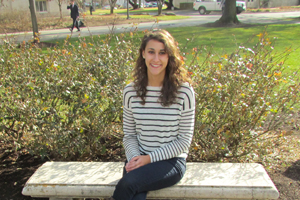 When Sarah Goodheart, CAS/BS '13, was awarded the Stephen C. Grebe Scholarship, she was delighted for the opportunity to continue her research throughout the summer of 2011 and significantly expand her experience. The scholarship also affirmed that she was on the right path; applying for the scholarship "was the first time that I really had to think about and articulate why I wanted to study medicine. Finding out I won was very validating." Thanks to the Grebe scholarship and her determination, Sarah is excelling as a junior biology major at American University.

As the daughter of a father in pharmaceutical sales and a mother in medical marketing, Sarah was exposed frequently to medical terminology and concepts as a child. She mused that, "rather than reading a fairy tale to me, my dad would read about the intricacies of the heart. Now, in class, we'll discuss various subjects, and I'll think 'my dad told me about that when I was five!'" Now a student in the Premedical Program, Sarah's curiosity has dovetailed with these experiences to increase her interest in science, as she "likes to discover how things work."

During her sophomore year, Sarah took Cell Biology taught by Professor Kathleen De Cicco-Skinner, who garnered a large grant from the National Institutes of Health (NIH) for her scientific research. Inspired by De Cicco-Skinner's work, Sarah, who plans to become a surgeon, perhaps specializing in cardiothoracic surgery, approached De Cicco-Skinner about engaging in research. Now, Sarah joins a team of researchers in the biology laboratory every day to study the correlation between inflammation and cancer. This opportunity has been instrumental in furthering her interests and her understanding of research methods. Sarah hopes to eventually join De Cicco-Skinner on her weekly visits to NIH, where she collaborates with other researchers.

While Sarah's position on De Cicco-Skinner's research team was achieved by her initiative and ambition, the Grebe scholarship provided the financial backing for her immersion in a full-time research project last summer. The endowed scholarship was generously established in memory of Professor Stephen C. Grebe, a former chair of biology in the College of Arts and Sciences at American University, by his family, friends, and fellow faculty members. The fund provides financial support to undergraduate students pursuing summer research opportunities with Department of Biology faculty that enhance and strengthen their academic experiences and support the department's commitment to training young scientists.