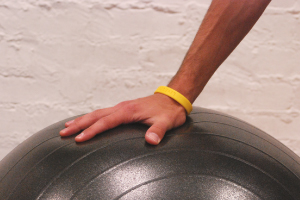 Current guidelines recommend moderate exercise most days of the week. If you're unsure of where to start, take a look at the pages below.

Exercising with resistance bands and stability balls can be low impact while providing you with a great workout. We've broken it down into different areas of the body, and provided some short workouts to make it easier.
Perform each exercise 8-12 times. For an added challenge, rest for 30-60 seconds and repeat. The American College of Sports Medicine recommends that healthy adults should perform 8-12 repetitions of 8-10 strength training exercises twice a week.
Be sure to consult your physician before starting a new exercise program.
TO FIND OUT HOW TO BRING AHEALTHYU FITNESS CLASSES TO YOUR OFFICE CLICK HERE