On Campus
AU Celebrates Our Staff With a Week of Special Events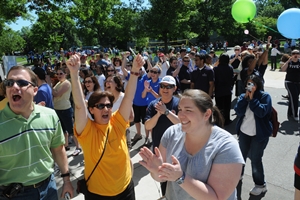 May 17 – 21 is Staff Appreciation Week at American University, our annual celebration of our staff. Throughout the week, there will be events celebrating top performers, years of commitment, and staff contributions across campus. Join in on the AhealthyU screenings, the Bake 'n' Bowl event incorporating challenges in fitness and baking, and take your chances in a raffle for a Wii system – and that's just the planned events for Monday, May 17.

As in previous years, there will be week-long discount offers, Tuesday's years of service and performance awards luncheon, Wednesday's 20-year club dinner, and Thursday's annual staff appreciation picnic, volleyball tournament, campus and board games, international showcase, charity drives, and more.

For more information, visit the Staff Appreciation Week Web site.