On Campus
AU Celebrates World Creativity and Innovation Week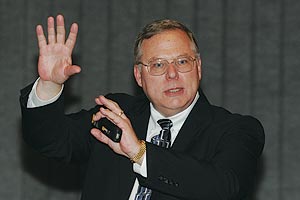 When it comes to fostering creativity and innovative thinking in the workplace, "there's no silver bullet," said Scott Isaksen, president of the Buffalo-based Creative Problem Solving Group.
According to Isaksen, creative, innovative companies and universities share three commonalities: inclusive leadership, creative climate, and deliberate process. "Those that are successful execute well on all three," he said.
"You can have creativity without innovation—but you can't have innovation without creativity."
Isaksen spoke at AU, April 15, as part of World Creativity and Innovation Week, held each year around Leonardo DaVinci's birthday. The presentation was sponsored by the Center for Teaching, Research and Learning and Human Resources.
Click here for more information about World Creativity and Innovation Week, including workshops, recommended reading, and 78 ideas to ignite creativity.