Achievements
Scholarship Winner Builds Bridges of Understanding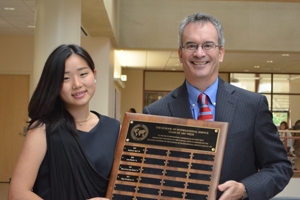 Fu Hamabe, an international student at the School of International Service in the Ritsumeikan University dual-degree program, is this year's recipient of the Class of 1967 Scholarship. The scholarship honors an SIS international undergraduate student who exemplifies dedication to change, belief in education, and giving back to our communities.
Born and raised in a Korean community in Kyoto, Japan, most of Hamabe's close neighbors and friends had roots from the Korean peninsula. Growing up, she struggled between her Japanese nationality and Korean culture, and observed the often tense relations between the two nations. Eventually, she grew weary of remaining silent about her internal struggle and decided to make a difference.
"I'm tired of seeing the island dispute and other historical issues on TV," she says. "I'm tired of ignoring these situations. I'm tired of listening to international students from East Asia say that 'it does not matter' because it does matter, and now it is time to be 'the change' together. We want P.E.A.C.E. for East Asia."
Hamabe's primary academic focus is Peace Studies. After several semesters in Japan, she was eager to study abroad, specifically in the United States. Her professor, Akihiko Kimijima, previously taught at American University as a visiting scholar, and recommended that she study at AU.
At AU, Hamabe is a founding member of a Dialogue Development Group (DDG), which provides a forum where Chinese and Japanese students can get to know one another.
"We started by getting to know each other and each other's culture. Then, gradually, we started talking about island dispute issues and other historical issues between China and Japan. The goal was to get rid of tension between us and build 'real friendship'," Hamabe says.
This semester, Fu Hamabe also started the club P.E.A.C.E. (Peace of East Asia in Creative Engagement).
"I want to provide a space for students to take risks, ask questions, and share their opinions in order to overcome the difficult and sensitive situations involving our people," she says. "I want to allow a connection between East Asian students and people who are involved in peace in East Asia. My hope for us is to be the bridge of East Asia." Upon graduation, Hamabe plans to obtain her license to teach at the junior high school level in Japan. She may also study in Korea or Germany.