On Campus
AU Ready Hire — An 'Inside Contact' in A Tough Jobs Market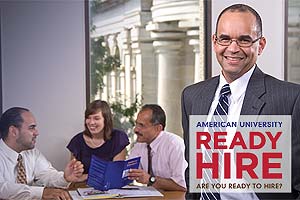 Since it was introduced last summer, AU Ready Hire, an in-house recruiting service for administrative positions, has become the successful recruiting tool its planners envisioned. Since launch, AU Ready Hire recruits have filled more than 50 percent of the openings for which they were candidates. 
Maira Lazdins, AU Ready Hire manager, attributes this success to the program's streamlined recruiting process. Clients also attribute it to Lazdins's approach to meeting their needs. 
"Hiring managers [can] tap into a qualified, diverse pool of candidates who are ready to fill full-time, part-time, or long-term temporary administrative openings. Our pre-screening and testing allow the process to go quicker, and more efficiently. A selected candidate can start work almost immediately."
David Bierwirth, senior associate director of Athletics, who used AU Ready Hire to fill an administrative assistant job can vouch for both. "Maira's thoughtful approach, understanding of the culture of higher education, and our unique needs in Athletics allowed us to pick from a group of candidates with confidence. We completed the hiring process within a month—even over the holidays."
Victoria Ferrara, a senior administrative assistant in the Office of Campus Life, who was one of the program's first candidates recalls her search. "Last spring, I looked at AU as a prospective employer. I sent my résumé to Human Resources detailing my skill set, but without a particular job in mind. I got an e-mail back and was told about the new Ready Hire program. After going through the pre-screening process, Maira Lazdins and I kept in regular contact about possible job openings. In this tough job market, Maira and Ready Hire were like my 'inside contact' within a large institution. I was privy to detailed descriptions about jobs that I might have passed up if I'd just seen a brief job description on a jobs board. In fact, I would've never seen myself working in my current field. Ready Hire's attention to meeting my needs and my supervisor's created a more successful match than either of us had anticipated."
For more information about AU Ready Hire and to find out about administrative openings, click here or contact Maira Lazdins in Human Resources at 202-885-3557.