On Campus
Running for Life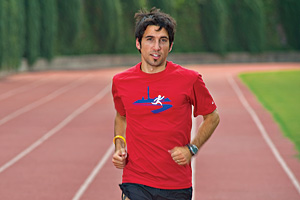 If you've participated in the Pedometer Challenge, gone to a brown-bag wellness event, or shopped on campus at the farmer's market, you can thank Matthew Barresi.
As the health promotion program assistant at American University, he's responsible for the day-to-day operations of such events. He's also a critical part of the marketing effort.
"It was obvious that Matt was very creative," his boss, Amy Farr, health promotion manager at AU, said of her decision to bring him on as a graduate assistant and then hire him full time even before he completed his master's degree in health promotion management at AU. This week he defends his thesis, a study of the Pedometer Challenge.
"We've tried to use Matt's unique skill set to our advantage," Farr said. "So much of health promotion is marketing and communication. It's not enough to develop and implement programs that we think AU faculty and staff will enjoy — we have to get people excited enough to actually participate in them."
Barresi, who grew up in Scaggsville, Maryland, took a somewhat roundabout route to his career. He graduated in 2005 from AU's School of Communication with a degree in visual media. After graduation, he worked as a graphic artist and project manager for an online screen-printing company.
A serious runner — he ran track and cross country at AU and continued to train with track and cross-country coach Matt Centrowitz after graduating — he found that people at work were constantly asking him for tips on nutrition and training. And he liked helping them.
"A light bulb kind of went off that I was enjoying that and finding more fulfillment in that than doing the graphics work and the production management work," he said.
So why does he find his new field so satisfying?
"The Couch to 5K program kind of wraps up everything I love about health promotion," Barresi said, describing the program that takes non-runners and gets them moving toward a goal. "To see them finish the race and run 3.1 miles when nine weeks ago they could barely run the straightaway on the track is awesome," he said.
Running is far more important for Barresi than even his rigorous training schedule — he puts in between 70 and 110 miles a week — would indicate. He continues to race on a team sponsored by Pacers Running Stores and is now training for the Philadelphia marathon.
But more important than that, running is how he met his wife, Joy.
"On the W&OD trail in Vienna, Virginia, we used to pass each other every morning," Barresi recalled. "When you run that much you get into a routine and you see the same people every morning, and she was one of the people I saw every morning."
Attracted to her, after a few months he finally worked up the nerve to do more than just wave.
"So I took my business card so she didn't think I was a high school kid that didn't have a job and I wrote her a note on the back that said, 'I'd love to put a name with such a familiar face. Could I take you out to dinner sometime?'"
Without interrupting her run, he said to her, "Good morning, this is for you," and handed her the card as she ran past. She e-mailed him later that day and a week or so later they had lunch. Two years later they were married, and in August they will have their first child.
"She carries the business card around with her everywhere she goes," Barresi said. "She likes to be able to show it to people when she tells them the story."