Dear Fellow Alumni...
By Brian F. Keane '89
November 5, 2009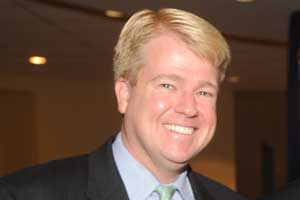 I am writing you today as proud as ever to be an alumnus of American University, and with great confidence in the students, faculty, and leadership of our shared alma mater.
In your local paper, online, or in national publications such as the Wall Street Journal or New York Times, you may have noticed a story that referenced a report in the Chronicle of Higher Education regarding presidential compensation in higher education.  Annually, the Chronicle collects and compares data as listed on publicly available IRS Forms 990. On Monday, the Chronicle published a story using the data from 2007–2008, which reported that AU president Neil Kerwin, SPA/BA'71, received $1,419,339 in total compensation in 2008, ranking third highest in the nation.
Eagle to eagle, you should know that this report of Dr. Kerwin's income is misleading.  Dr. Kerwin's annual salary, $559,067 in FY2008, historically ranks third among the seven presidents of private research universities in Washington and is moderate in relation to presidents at private universities.  The total reported included deferred compensation ($481,304) and investment growth ($318,864) that Dr. Kerwin earned over nearly a decade during his service as provost and interim president.  He was required to take the payout when the funds vested, consistent with board policy.  It is important to note that each year of the deferred compensation was previously reported on IRS 990 forms and prior surveys as a benefit.
I hope you are able to take a moment to review a communication from AU Board Chairman Gary M. Abramson, SPA/BA '68, on this subject here.

On behalf of the AU Alumni Association Board, I would like to express my disappointment for the editorial choices utilized by the Chronicle and, subsequently, by other news outlets.  During his tenure, Dr. Kerwin has led the university to tremendous financial and academic success and the board's compensation is especially focused on competitive, market-based compensation that is not excessive.  I am proud to be serving as Alumni Board President during this time. I hope that this information is helpful to you, and I encourage you to maintain an open and honest dialogue with your alma mater.
Thank you for your time and consideration.
Sincerely,
Brian F. Keane,
SPA-SOC/BA '89
AU Alumni Board president