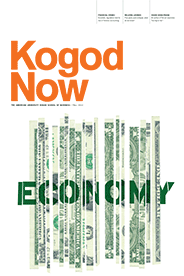 Kogod Now is a bi-annual, digital research magazine produced by the Kogod School of Business at American University. Its content examines trending business topics through current academic research.
Our new Regulation issue asks a timely question: Five years after the start of the financial crisis, what has changed? With insight from a former director at the Federal Reserve, we explore the regulatory accomplishments—and stumbles—in the wake of the Lehman Bros. bankruptcy and subsequent fallout. 
Beyond the cover story, we also feature:

How to Save Your Stock When the SEC Comes Calling: Associate Professor Gerald Martin's research found surprising results on the financial implications of C-level executives' cooperation with SEC enforcement actions.
Business Bribes: Who Pays Them and Why?: Assistant Professor Yujin Jeong used unique data from the UN Oil-for-Food Program to examine bribery practices in international business.
Guilty by Association: James Moser, executive-in-residence and former economist with the Commodity Futures Trading Commission, thinks lawmakers missed the mark when they sought to regulate all over-the-counter derivatives, instead of honing in on credit default swaps.
We also welcome columnist Aaron Klein of the Bipartisan Policy Council, one of the authors of the Dodd-Frank Wall Street Reform and Consumer Protection Act of 2010, who writes about "too big to fail."