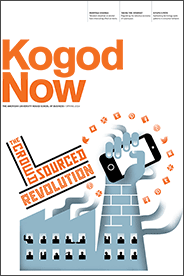 Kogod Now is a bi-annual, digital research magazine produced by the Kogod School of Business at American University. Its content examines trending business topics through current academic research.
Our new issue explores the Business of Media. You'll find faculty insight into the dynamics of crowdfunding and the impact of crowdsourcing on labor markets; how television impacts teens' perceptions of alcohol; and the effectiveness (or lack thereof) of racial stereotypes in advertising.
In this issue:

We also welcome columnist Dr. Dorothy Kosinski of the Phillips Collection, who writes about the art of modern fundraising.

Subscribe for free at kogodnow.com and receive the next issue in your inbox.
Questions? Email the editor.