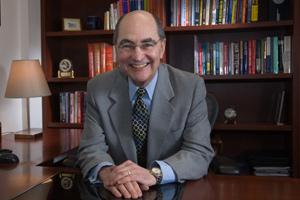 Business in our complex world is constantly evolving. Massive advances in technology, changing roles of multinational corporations, and the growth of small businesses and startups all require that businesses change and adapt.
Keeping up with all this change requires nimble, inventive, and thoughtful leaders like never before; leaders who realize a strong commitment to both purpose and profit. 
We are helping shape these emerging leaders at American University's Kogod School of Business, in fields ranging from Accounting to Management, International Business to Information Technology, Marketing to Finance and Real Estate. Kogod emphasizes academic innovation in established programs—such as the Master of Business Administration (MBA)—as well as innovative new offerings, including the Bachelors of Science in Business and Music.
Take the promising concept of Peace Through Commerce—a topic of deep interest to our community of faculty, students, and alumni. Business is playing a critical international role in emerging economies and countries in conflict; that's one reason why Kogod underscores global learning opportunities and offers the Peace Through Commerce practicum, where students aid entrepreneurs in conflict zones.
Kogod also focuses on critical domestic concerns. Our faculty research contributes to national issues such as the obesity epidemic, financial regulation, and the challenges of the US tax code. Our students also serve their communities, through volunteer opportunities and courses like Washington Initiative, where undergraduate students apply their business skills at a local nonprofit.
This is an exciting time at the Kogod School. Our home in Washington, DC puts us in a uniquely powerful position to affect positive change in the business world and society at large. Inspired new programs, such as the Master of Science in Sustainability Management, will blaze a trail that the Kogod community can be proud of for years to come. I am confident that once you explore what we have to offer, you will agree.
I look forward to seeing you on the American University campus.
Until then,


Michael J. Ginzberg, PhD
Dean
ginzberg@american.edu