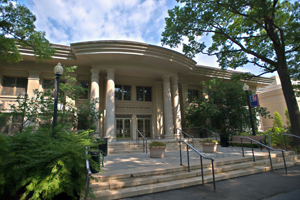 The American University Kogod School of Business is one of the leading business schools in Washington, D.C., and is the business school of choice for students who want to combine their study of management with another discipline that will enhance their ability to lead with vision in a rapidly changing global business environment.
The Kogod School of Business offers graduate and undergraduate business degrees with an unmatched opportunity to integrate business education with other renowned American University disciplines such as international services, law, and politics. The Kogod School of Business dual degrees, strong co-curricular programs, endowed scholarships, thought-leading research and comprehensive center for career development attract high quality students and faculty from around the world.
Established in 1955, the Kogod School of Business has a highly diverse population that is driven to make a difference within organizations and in the world at large. The school works closely with the business community to create market-driven programs that produce outstanding leaders. Graduates of Kogod School of Business have both the practical management skills to become effective leaders today and the broader insights to adapt to the challenges of the future.

Mission
At American University's Kogod School of Business in Washington, D.C. our mission is to:

Provide our graduates with a rigorous framework of business education and research that develops their critical thinking and problem solving skills that are relevant to all industries and interests.
Prepare our graduates to be the best to work and lead in organizations across the private and public sectors spanning the globe, and to understand the broad and enduring impact organizations have on individuals and society.
Conduct and publish high-quality scholarship for academic and professional audiences.
Vision
The American University Kogod School of Business is committed to the belief that profit and purpose are not at odds.