Graduate Admissions
4400 Massachusetts Avenue NW
Washington
,
DC
20016
United States
We are delighted to learn of your interest in education at American University's Kogod School of Business and look forward to connecting with you throughout the application process.
Here you will prepare for the next generation of business with world-class faculty, guest speakers, and leaders of industry. You'll also collaborate in real-world projects with diverse and passionate classmates. Apply to Kogod now to connect with your new business network.
As you continue with your search, we encourage you to Request More Information, visit us during an Admissions Event, and also review our Application Guide, which will provide you with an overview of the admissions process and includes application requirements, deadlines, and other degree-specific information.

For more on our degree programs, or for questions about applying, please contact us at kogodgrad@american.edu or call (202) 885-1913 or toll free at (800) 262-8622.


Direct admission to the Kogod School of Business is offered to high school seniors and transfer students who meet AU's Undergraduate Admissions Standards. All applicants apply to American University, a separate application is not required to be admitted to Kogod. To apply online, please visit the Common Application website.
For additional information regarding American University's Undergraduate admission process and requirements, please visit american.edu/admissions.
With our online master's degree programs, MBA@American and Analytics@American, we are bringing our unique education philosophy to students around the world, offering professionals the chance to earn a Kogod degree no matter where they live and work.
Kogod's online programs have four start dates throughout the year: January, April, July, and October. Candidates must have a bachelor's degree from an accredited college or university in order to apply.
Visit the Business@American Admissions Homepage for more information.
Non-degree study is available for students who seek additional graduate business education without commitment to a degree program, as well as those who have been advised to complete non-degree business courses prior to enrolling in a degree program.

How to Apply
Students interested in non-degree graduate business courses are required to complete a non-degree application along with an unofficial copy of their most current transcript.

Non-degree tuition rate
For information regarding tuition and fees, please refer to the Student Accounts website.
Admissions Events Connect with our faculty and staff on-campus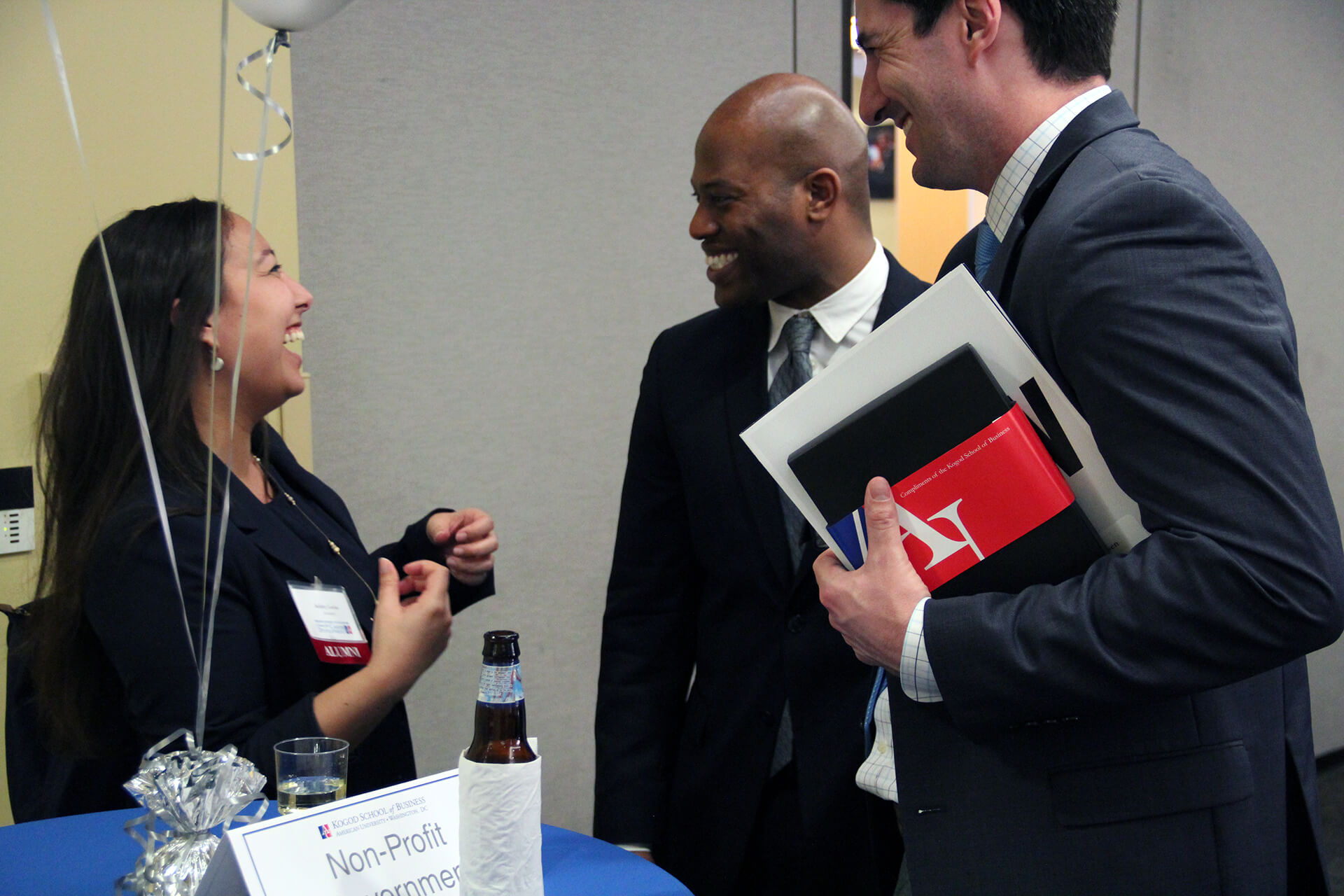 If you're not quite ready to apply, consider registering for a Kogod Admissions Event to learn more about the program(s) you are considering.
Events for prospective students are held every the fall and spring before application deadlines occur. View the American University Calendar for more opportunities to visit the Kogod School of Business on campus.

Kogod Admissions on the Road
Our admissions staff will be traveling nationwide this fall, to meet with applicants in person and get to know our future students. Attend any of the off-campus events to speak with a representative from Kogod School of Business.
For Fall 2017, Spring 2018 and Fall 2018


MBA Application Dates
Admission to all MBA programs is offered for the
Fall term only
. Application deadlines are organized into rounds. Admissions decisions are released on a rolling basis for the MBA programs. Your application needs to be submitted by the round deadline and all your supporting documents should be submitted within a week of that deadline to be considered a part of that round.
Add reminders to your calendar &raquo
MS Application Dates
Introduce Yourself
Sign-up for in-depth information for the degree of your interest and get started today.