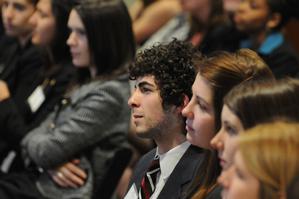 The Kogod Center for Career Development provides support for alumni who are making job and career transitions. As an alumnus, you have access to a robust suite of career services, detailed below.
CareerSource - Kogod CareerSource is a portal for business students. This portal provides access to career exploration and assessment tools, workshops and skill building opportunities, internship and job postings, regular networking events-on and off campus, and on campus interviews.  
The following tools are particularly useful to find positions, but should be accessed through CareerSource rather than their web address to receive premium benefits through KCCD's subscriptions: 
CareerShift - Find companies within a specific industry/region or locate contact information for current employees for informational interviews.
GoingGlobal – Access country guides and resources if you're seeking opportunities outside the U.S. There is also a comprehensive list of U.S. employers who have hired H-IB status international students.
Vault's Industry Insider – Get comprehensive industry guides and in-depth company information that is crucial to identifying companies of interest and preparing for interviews.
InterviewStream – Sharpen your interview skills through this mock interview software that includes hundreds of sample questions.
Alumni can also schedule an appointment with KCCD's career advisors to discuss job search and career transition issues either in person or via telephone. To schedule an appointment, either call (202) 885-1908 or email kccd@american.edu.