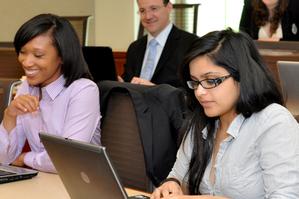 Post a Job or Internship
One of the best ways to find high-quality interns and full-time assistance for your organization is by tapping the Eagle network. The easiest way to hire a Kogod student or alumnus is by posting a position on the CareerSource portal.
Attend an Industry Day
The KCCD organizes a series of industry-specific events throughout the academic year that focus on the core industries of Accounting, Consulting, Finance, Real Estate, IT, Marketing, Entertainment, and International Business. Alumni are encouraged to represent their firms and/or participate in each event's networking session.
Prepare Student for Mock Interviews
KCCD coordinates Mock Interviews to ensure students are competitive in their hiring interviews. Contact Annie Matanin at matanin@american.edu to volunteer to help students with interview preparation.
Host a Site Visit
Showcase your DC or NYC organization and give Kogod students an inside view by hosting a site visit. KCCD arranges site visits with local organizations throughout the academic year, and coordinates two annual trips to NYC for industry-specific site visits (Finance and Real Estate in the Fall, and Marketing and Communications in the Spring). Contact Annie Matanin at matanin@american.edu to arrange a site visit.
Participate on a Panel or in a Class Discussion
We are always looking for professionals to share their expertise firsthand. Contact Annie Matanin at matanin@american.edu to join our Alumni Volunteer Experts list.
Stay in Touch on LinkedIn 
We strongly encourage our students to use LinkedIn to create a professional profile and build their networks. Join the Kogod School of Business group on LinkedIn, and connect with KCCD staff, Kogod professors, and other alumni.