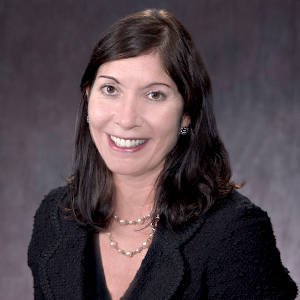 Heather Elms
Associate Professor
Department of International Business
Heather Elms is Associate Professor of International Business at the Kogod School of Business. She currently teaches graduate courses in critical thinking, business at the private/public intersection, and undergraduate courses in international business. Her research focuses on the relationship between corporate and stakeholder responsibility in the global context, including the role of professionals in those responsibilities. She has investigated that relationship and role in different industries (e.g., health care, security) and in different regions of the world (e.g., Central and Eastern Europe). Professor Elms has published her work in outlets including Academy of Management Review, Business Ethics Quarterly, Organizational Research Methods, Strategic Management Journal, and Strategic Organization. She is an elected member of the Society for Business Ethics' Board of Directors, Associate Editor of Business Ethics Quarterly, on the Editorial Boards of Business & Society and International Journal of Emerging Markets, and is a Founding Editorial Board member of the new Stakeholder Theory & Practice.

Degrees

B.A., University of California, Berkeley; M.A. Columbia University; Ph.D., University of California, Los Angeles
Loading ...

OFFICE

KSB - International Business
Kogod - 222
Tuesday 3:30 - 7:30 p.m.; Friday 3:30 - 5:30 p.m. or by appointment
FOR THE MEDIA

To request an interview for a
news story, call AU Communications
at 202-885-5950 or submit a request.
Teaching
Spring 2015

IBUS-200 The Global Marketplace
Summer 2015

IBUS-744 Int'l Dimen in Mgmt: Study Abr
Fall 2015

IBUS-244 Int'l Management Practices: Cuba

IBUS-244 Int'l Management Practices: Cuba

KSB-609 Business at Private-Pub Inter

KSB-610 Strategic Thinking

KSB-612 Strat Thinking for Decisions
AU Expert
Area of Expertise: International business; strategy; business ethics; corporate responsibility; stakeholder responsibility; corporate governance; corruption; the privatization of security; professionalization; emerging markets, specifically Central and Eastern Europe and Eurasia

Additional Information: Heather Elms is associate professor of international business, Kogod Research Professor, and chair of the International Business Department, Kogod School of Business.  She teaches undergraduate and graduate courses in critical thinking, international business strategy, and peace through commerce.  Her research focuses on the relationship between corporate and stakeholder responsibility in the global context, including the role of professionals in those responsibilities. She has investigated that relationship and role in different industries (e.g., health care, security) and in different regions of the world (e.g., Central and Eastern Europe). Elms has published her work in outlets including Academy of Management Review, Business Ethics Quarterly, Organizational Research Methods, Strategic Management Journal, and Strategic Organization. She is an associate editor of Business Ethics Quarterly and on the editorial boards of Business & Society and International Journal of Emerging Markets. 

Media Relations
To request an interview please call AU Media Relations at 202-885-5950 or submit an interview request form.