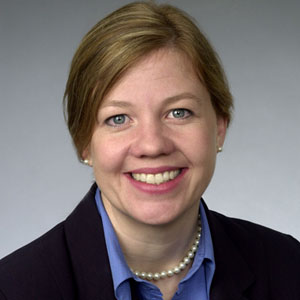 Jennifer Oetzel
Associate Professor
Department of International Business
Professor Oetzel, Kogod International Business Professor, conducts research on how major discontinuous risks such as natural disasters, terrorist events, and violent conflicts, affect businesses and whether firms can gain experiential advantages managing these events. Dr. Oetzel's work has been published in top-tier journals such as Organization Science, Strategic Management Journal, Journal of International Business Studies, and the American Business Law Journal, among others. She is also on the Editorial Board of several journals including the Strategic Management Journal and is Associate Editor at Business & Society. In April of 2013 Prof. Oetzel co-organized - with the Institute for Economics and Peace - an international conference on peace metrics and the role of business - at American University. The 2nd biennial Business, Economics and Peace conference will be held April 10-11, 2015. Prof. Oetzel teaches undergraduate and graduate courses on strategy in emerging markets and business and economic development. In 2006 she was selected by Businessweek as one of the top three faculty members in the Kogod School of Business.

Degrees

Ph.D. Strategic Management, University of North Carolina at Chapel Hill, M.S. Economic Development and Urban Planning and B.A. Economics, University of Texas at Austin
Loading ...

OFFICE

KSB - International Business
Kogod - 206
FOR THE MEDIA

To request an interview for a
news story, call AU Communications
at 202-885-5950 or submit a request.
---
AU Expert
Area of Expertise: International business; international strategy, business, and economic development; political risk management and assessment; business response to violent conflict; business in developing countries and emerging markets

Additional Information: Jennifer Oetzel's teaching specialties include business strategies for emerging markets and international business. Her research focuses on how companies can better manage major disasters (such as terrorism, natural and technological disasters) and violent conflicts in countries where they do business. Her research has been published in the Strategic Management Journal, Long Range Planning, Journal of Business Ethics, American Business Law Journal, Journal of World Business, International Business Review, and Development Policy Review.
 
Media Relations
To request an interview please call AU Media Relations at 202-885-5950 or submit an interview request form.