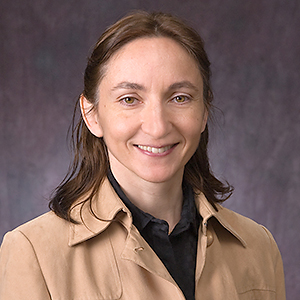 Cristel Russell
Associate Professor
Department of Marketing
Professor Russell's research focuses on the social, psychological and cultural factors that influence the consumption of alcohol and other substances, especially amongst vulnerable populations (e.g., youth, military). Given the blurring of the lines between entertainment and marketing, she researches the impact of substance-related messages embedded within entertainment content, such as product placements in TV series and music videos. Cristel's reputation as a leading expert on product placement is fueled by many academic publications and presentations regarding the use of embedded content as a communication tool for business but also its use in health education.

Professor Russell publishes in the top marketing and advertising journals, such as the Journal of Consumer Research or the Journal of Advertising, as well as health journals, such as Addiction or the Journal of Studies on Alcohol and Other Drugs. She has received funding from the National Institutes of Health and from France's Institut National du Cancer.

Degrees

PhD, University of Arizona; MBA

Languages Spoken:

English, French, Spanish and some Italian
Loading ...

OFFICE

KSB - Marketing
Kogod - T22
Tuesdays and Fridays 11:30 to 1:00PM
FOR THE MEDIA

To request an interview for a
news story, call AU Communications
at 202-885-5950 or submit a request.
Teaching
Fall 2015

MKTG-301 Consumer Behavior

MKTG-411 Advertsng & Marketng Comm Mgt
Spring 2016

MKTG-301 Consumer Behavior

MKTG-412 Advertising & Promo Campaigns
AU Expert
Area of Expertise: Consumer Behavior, Alcohol Advertising, Product Placement, Influence of Television Series, Entertainment Marketing. Media Influences, Television Audience Measurement

Additional Information: Cristel Russell's research interests include , advertising in society, entertainment culture and marketing, advertising & promotions, consumer behavior,global marketing, marketing & public policy, integrated marketing communications, and marketing management. Russell most recently taught undergraduate and graduate courses in marketing management and advanced consumer behavior at the University of Auckland, in New Zealand. She is currently on the editorial review board of Journal of Advertising since 2005. She is the recipient of grants from the National Institute of Alcohol Abuse and Alcoholism. Her publications have appeared in the Journal of Consumer Research, Journal of Advertising, and Journal of Advertising Research among others.


Media Relations
To request an interview please call AU Media Relations at 202-885-5950 or submit an interview request form.