The FSIT Lab is a value-added teaching and learning tool to enhance students' experience that is paramount to their future work and career.
All workshops and training sessions in the FSIT Lab include discipline-specific instruction and specialized education for students to:
Sharpen financial skills
Deepen business knowledge
Access in-depth research in accounting, finance, economics, and allied fields
Gain a competitive advantage for internships and jobs
Prepare for the professional world
These training sessions and workshops illustrate how to access existing knowledge within various outlets while utilize industry-accepted software applications and databases. Additionally, training will help students to articulate a project agenda and critically evaluate analysis and research reports.
Available Training Sessions
Whether you just want to get started or fine tune your skills, the FSIT Lab will help you with a variety of training opportunities such as: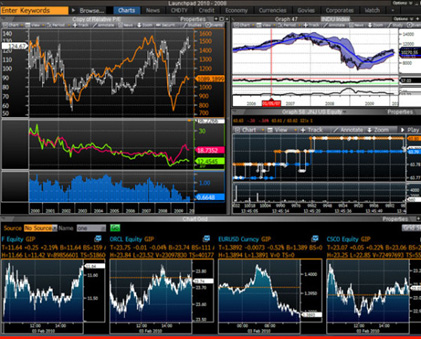 Bloomberg is one of the premier financial databases that provides extensive coverage of the global financial markets. The ability to access data quickly and to model the data in order to make crucial decisions is vital to all business professionals. Familiarity with Bloomberg terminals will give you a competitive advantage in gaining an elite internship or a job.
Bloomberg Jump Start
Goal: To provide you with knowledge, practical skills and experience in Bloomberg products. This class covers database structure and commands with a focus on real-time and historic pricing, fundamental data, customized analytics etc.
Bloomberg Log On/Log Off
Most Helpful Keys
Data Content/Coverage
News Functions
Equity Functions
Debt Functions
Currency Functions
Bloomberg Equity Valuation
Goal: To help you use Bloomberg power to access information and perform analysis on stocks. This seminar also focuses on advanced equity analytical functions that estimate, from past data, the projected price movement of a stock relative to that of an index or another stock, the intrinsic value of a stock, the risk of bankruptcy, also the implications of changes in capital structure.
Bloomberg Log On/Log Off
Most Helpful Keys
Examine company fillings and "red-line" documents
Analyze benchmark statistics and trace company and peer performance
Perform a financial analysis on a company
Use earnings estimates for a company in one place so that you can quickly gauge market expectations
Analyze an issuer's financial operations
Research equity analyst recommendations
Bloomberg Foreign Exchange Market Analytics
Goal: To introduce you to the FX price discovery and functions related to Spot, FWD, Cross rates and volatilities as well as to ways how to rank currencies to find cross currency investment opportunities.
Bloomberg Log On/Log Off
Most Helpful Keys
Data Content/Coverage
FOREX Market Characteristics
FX Cross Rates, SPOT, FWD, BID-ASK Spread
FX Forecasts
Libor Historical Data
Covered Interest Rate Arbitrage
Thomson Reuters Eikon Investment Management Analytics
Goal: To demonstrate how to enhance the equity and bond valuation process by incorporating Thomson's proprietary ratings and value-added content for making better and faster investment decisions.
General presentation of Thomson Reuters Eikon platform
Monitor analyst and corporate executive activity and assess Thomson's take on stocks in your portfolio or a specific industry/index
Search and generate screening strategies for bonds and credit default swaps
Track current market pricing for selected securities
Assess an issuer, valuation ratios, earnings forecasts, and related equity information
Import, edit portfolios, create portfolios
Create, save alerts on events, transcripts, conference calls
Thomson Portfolio Analytics is a comprehensive solution that provides industry-leading performance attribution, sophisticated portfolio profiling and powerful risk analysis.
Goal : To build a portfolio, to describe the structure and characteristics of a portfolio relative to a benchmark, and identify sources of risk.
Use Thomson Reuters Eikon for screening stocks based on a set of criteria
Manipulate and model the portfolio using the Thomson Reuters Excel Add-In
Import and edit portfolios in Thomson Reuters Eikon platform
Analyze a portfolio: profiling, risk, return, attribution
Show changes in principal value for your portfolio, summary data for your portfolio and individual security performance.
Thomson Reuters Eikon is a powerful financial analysis database providing a wide range of data for over 80,000 internationally quoted companies. It offers you quick and easy access to quotes, earnings estimates, financial fundamentals, market moving news, transaction data, corporate filings, ownership profiles and research from industry-leading sources:
Thomson I/B/E/S
Thomson Worldscope
Thomson SDC
Datastream
Thomson First Call
Disclosure
Goal: To discover how to use Thomson Reuters Eikon company analysis module to:
Analyze company financial data, share price data and forecast estimates
Locate and download company filings including annual reports, 10-K, 20-F and IPO reports with links to image documents
Analyze company performance against standard/customized peer groups
Analyze performance and constituents of international stock exchange indices
Analyze company mergers & acquisitions activity
News: Global News Coverage Based on Industry or Company
Screening; Quick and Advanced Search
In addition to company analysis, Thomson Reuters Eikon has modules that provide data on ownership, corporate deals, which includes mergers and acquisitions (M&A) and initial public offerings (IPOs).
Thomson Reuters Eikon Peer Ratio Analysis
This Thomson Reuters Eikon training session (Comparables mode) gives you the ability to evaluate, analyze and edit pre-built sets of companies and create reports on items, such as: per share data, profitability, performance, liquidity analysis, earnings growth, comparative financials, valuation metrics, guidance list.
Goal: To demonstrate how to do a peer ratio analysis by pulling live data directly into Excel from Thomson Reuters Eikon as well as how to look for a clear progression from analyzing the historical behavior of key ratios relevant for the firm to those of the industry.
General presentation of Thomson Reuters Eikon
Companies: Overview, Prices, Worldscope data, Estimates, Research Reports
Filings: Overview and Links to Image Documents
Peers: Comparable Reports - Financial, Market & EPS Comparisons
Excel Add-in; Building Reports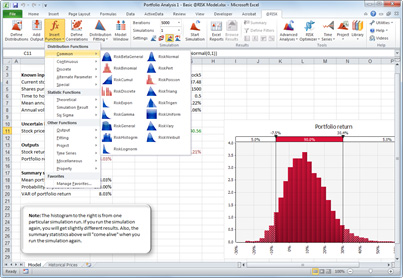 Software for risk and decision analysis that works with Excel to provide detailed "what-if?" analysis in spreadsheet models. Widely used in operations analysis, risk management and corporate finance.
@RISK performs risk analysis using Monte Carlo simulation to show you many possible outcomes and tells you how likely they are to occur. This means you can judge which risks are worth taking and which ones to avoid, allowing for the best decision making under uncertainty.
Many training sessions are available throughout the year. Register online using the training registration form.

Contact Director of the FSIT Lab, Octavian Ionici

Phone Number: (202) 885-1947