Achievements
American University Gamers Score at Business Model Competition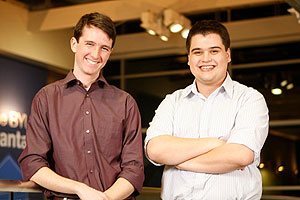 Looking for a solution to the hard-to-navigate world of video game reviews? Two American University students have the answer: Gamegnat. The gaming website, conceived by Zach Allaun, BSBA '13, and Jorge Espinoza, SOC '11, will aggregate video game reviews, guides, and walkthroughs from all over the Web.
With $15,000 in winnings from a business model competition earlier this week, their vision will soon be a reality.
Avid gamers, Allaun and Espinoza were always looking for great gaming information online. They discovered there was plenty of good information available, but it was spread across various sites and altogether too hard to find. So the pair decided to create a site that would become the one place gamers need to go for the best gaming information.
"Jorge and I are gamers, and we're really scratching our own itch here," Allaun said. "In a nutshell, we aggregate articles from all over, users rate articles up or down based on quality, and then keyword search results are displayed based on ratings."
Gamegnat wasn't always going to be a content-aggregation site. But after Allaun and Espinoza conducted over a dozen 30-minute interviews with potential clients, they fashioned the site based on the clients' feedback.
"Gamegnat is the result of actually talking to potential users," Allaun said. "We've used their feedback about the problems they face with gaming information to really shape our solution."
Brigham Young University's Business Model Competition supports a similar methodology: find out what potential customers want and need before you create a product – by asking them!
The competition awarded $15,000 to the team that best broke down their market assumptions, tested their prototypes in the field, and created a valid solution to the problem.
"A startup has significantly different goals than a corporation," Allaun said. "In a corporation, your goal is to execute on known variables – known markets, known customers, known products. In a startup, your goal is to search for and define those variables in the first place."
Allaun and Espinoza scored first place – and the $15,000 – at the BYU competition for their business model. The winnings will go toward launching the business, from scaling and marketing activities to Web development for the site.
But in order for Gamegnat to really get off the ground, the duo needs one more co-founder: a Web developer (who is an AU student and a passionate gamer, too, of course). Any gamer interested in making Gamegnat a reality can e-mail Zach Allaun at zach.allaun@gmail.com.
In the meantime, the partners are juggling every "corporate role" between the two of them: from Gamegnat co-founders to CEO/CFO/CMO to gaming fans.
"Both Jorge and I are playing the role of the Joker, the wild card,' Allaun said. "We're doing everything we can to get us up and running."