In the Community
Pop Culture Superstar Gives Tips for Business Success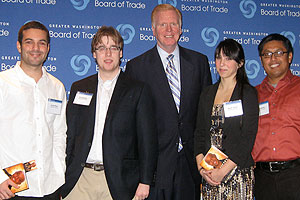 "To say that Russell Simmons is a genius may be an understatement. To say that he's the most calm, cool and collected multi-millionaire would be just fine," wrote Tannis Spencer, BSBA '12, on her blog.
Spencer knows firsthand. She and a select group of Kogod students were invited to attend the hip-hop business mogul's local talk and book signing Wednesday by the Greater Washington Board of Trade. The students, who were selected for their career interest in the business of entertainment, joined professionals eager to hear about Simmons' recently-released "how-to" book Super Rich: A Guide to Having it All.
A music entrepreneur, Simmons co-founded the hip-hop label Def Jam with Rick Rubin and created the Phat Farm, Argylectulture and American Classics clothing lines. In 2007, USA Today named Simmons one of the most influential people of the past 25 years for his impact on mainstream pop culture, from music to dance to dress. The multimillionaire is worth approximately $340 million.
"I must admit, I was expecting to be more star struck than I actually was, but...Mr. Simmons' yoga-meditating-aura rubbed off on me to put me at ease," Spencer said. "He credits much of his success to his daily meditation and connection to enlightenment."
Super Rich is a follow-up to Simmons' first book Do You! It urges readers to reevaluate what it means to be prosperous, encourages them to give back and offers insights from Simmons' life in the management of music. In a promotional video for the book, Simmons stresses that "good givers are good getters" and that doing "little jobs" well can lead to a big job.
"The talk gave me a new perspective on the job hunt after graduation," said Sarah Camhi, BSBA '11. "Simmons focused on the journey, working your hardest and enjoying what you are doing as opposed to focusing on the end result."
Camhi said Simmons emphasized that success cannot come unless you are doing something you enjoy and believe in.
"This was great advice as I am going to be entering the job market, and it is easy to lose focus on what you actually want to be doing when you feel you just need to reach that end result of a job," Camhi said.