Research
New Faculty Network to Examine Links Between Economics and Peace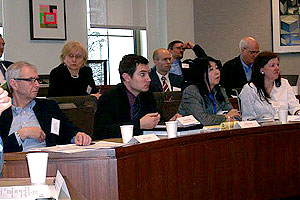 What are the links between peace and economic development?
How can academics better analyze the impact of peace on business activities?
How can we innovate the teaching environment in business schools to incorporate these findings?
These are the questions on the table for the Economics and Peace Faculty Network, a consortium of faculty and leading scholars brought together by the Aspen Institute's Center for Business Education and the Institute for Economics and Peace. The group held its first meeting last week at Kogod.
The network's formation is a response to advances in fact-based peace research – such as IEP's work on the Global Peace Index, which ranks the nations of the world by their peacefulness and identifies some of the drivers of peace. Thanks to the IEP's research, it is now possible gain a more quantifiable understanding of the impact of peace on business markets.
The network includes faculty from top international business schools, select faculty from complementary disciplines, as well as government and not-for-profit representatives. Four members hail from Kogod: Kathleen Getz, Jennifer Oetzel, Bob Sicina, and Michelle Westermann-Behaylo.
During the two-day meeting, the group reviewed relevant research, considered the kinds of data that are needed to further the discussion, brainstormed research programs, and discussed potential collaboration among members.
"We are highly appreciative of Kogod for hosting the inaugural meeting of the Economics and Peace Faculty Network," the IEP Chairman Steve Killelea said. "It was a very productive session that left everyone energized which has created a strong momentum of the group. We generated great excitement and initiated a number of tangible initiatives for furthering the understandings between business, peace, and economics."
Getz, who serves as Senior Associate Dean at Kogod and volunteered the school to host the meeting, agreed.
"Over the next three years and beyond, this group of scholars will conduct interdisciplinary research that I expect to contribute to the peace-building capacity of business, government, and NGOs," Getz said.
Members of the network were also introduced to Kogod's digital magazine, Kogod Now, which uses faculty research and expertise to discuss business issues and trends. Peace Through Commerce is the theme of the first issue, which debuts March 30.
Members of the network will continue to meet in person every nine to 12 months through 2013.