International
Business, Development Pivotal to Afghanistan's Future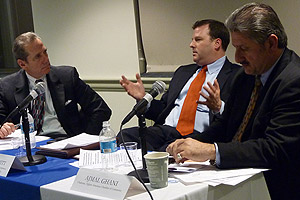 Ajmal Ghani is an Afghan-American who identifies with both countries and is proud of it. On Monday night, Ghani painted a picture of what Afghanistan was like a decade ago and compared it to the country's current situation.
In 2001, after the fall of the Taliban and the installation of an interim government, "Kabul was devastated… absolute, total devastation," he said. "The city was gray, there was no color. You would not see any women on the street. That's how bad Afghanistan was." Fast forward to 2010, and Ghani says there has been "tremendous progress" in the last nine years – and much of that can be attributed to the private sector.
There are now 18 banks in Afghanistan, four commercial airlines, four wireless phone companies, a network of roads and a thriving construction sector. Six million children are going to school; there are more than a dozen local television stations; and 25 percent of the parliament consists of women.
"Life has returned to the country, despite what we see and what we hear in the news," Ghani said.
As chairman of the Afghan-American Chamber of Commerce, Ghani spoke on business' role in Afghanistan alongside James Schmitt, Vice President of Stabilization and Development at Creative Associates International, Inc. The panelists were moderated by Executive-in-Residence Bob Sicina, who has developed a new practicum course, Peace Through Commerce, which offers MBA students the opportunity to refine their consulting skills while researching funding sources for humanitarian projects in conflict zones.
Unique Perspectives

The men discussed business potential in Afghanistan and the challenges that outsiders face. Schmitt's professional experiences have been shaped by his support of U.S. government programs, while Ghani has an insider's view, having grown up – in part – in Afghanistan.
"Mr. Schmitt provided a useful perspective on how to effectively operate in Afghanistan as a foreigner by understanding the culture and listening carefully to the people as they explain their perspective on their needs," Sicina said. "Mr. Ghani shared his personal story of how he left Kabul as a teenager and returned as an adult to the total devastation of the city. His pride could be felt as he described the re-building, which has taken place over the ensuing 10 years and was largely led by the private sector."
The experts' views shared a lot of common ground.
Both speakers stressed the importance of using local partners to execute projects. "You have more than capable people – talent – who are local," emphasized Schmitt. "It's not all about bringing in ex-pats." 
Both acknowledged a positive shift in the youth of Afghanistan, many of whom are better-educated, have greater access to technology and are more sophisticated than previous generations. They also express interest in learning English and conducting business.
"The entrepreneurial spirit of the Afghan people is very strong," Schmitt said. "People ultimately want a better life."
Ghani concurred, and pointed out that Afghan women are particularly interested in proving themselves through business, citing the success of microfinance loans and the overwhelming contribution of women to that effort. 
Challenges Abound

There are still huge challenges, Ghani and Schmitt warn: a 40 percent unemployment rate and a lack of affordable credit for small- and medium-sized businesses - the traditional drivers of an economy - are among the top concerns.
There is great potential in the agriculture and mining industries. Afghanistan is already exporting grapes to India, and China is readying to make a huge investment in copper; moreover, Ghani pointed out that agriculture is a natural choice for Afghanis, two-thirds of whom live outside urban areas. Yet most of the natural reserves are located in the mountains, a treacherous area.
While the speakers expressed hope that the discovery of natural resources can lead to stability – rather than contributing to instability – one thing is for certain: the "social fiber of the Afghan society has been completely dismantled and it needs to be rebuilt," said Ghani.