Business
Every Second Counts at Elevator Pitch Competition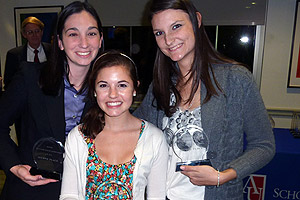 Undergraduate students Janis Irish (BSBA '10) and Shivani Khera (BSBA '10) were this semester's winners of the Washington Monument Elevator Pitch Competition.
Competitors pitched a product or service to a panel of professionals, but were challenged to do so within 150 seconds. These elevator pitches taught students how to master the art of marketing a new venture and engaging potential investors.
The competition was a part of Professor Richard Linowes' management course, Entrepreneurship Business Plans (MGMT-383). He teaches the course with one of his former students, Rob Finfer (BSBA '87), who now runs Integrity Capital Partners, an Inc. 500 company.
Linowes said that the competition was the best yet, with several former students and alumni who came to watch the presentations. There were also seven judges, "all people who have built successful businesses, and several of whom are now full time venture capitalists and investors in new ventures," Linowes said.
Irish and Khera represented their proposed spa business, "Hello, Sunshine." 
The second place winners were Ceci Alavarez (BSBA '11), Dana Fleishaker (BSBA '10), and Brittany Schultz (BSBA '10) pitching their idea "U Customize," a college student organizational service.

Jaquie Chamberlain (BA '10) won third place with her pitch for "The Cookie Girl."
These elevator pitches are just "dry-runs" of the students' business plans. The full presentations will take place May 2-3, where they will receive 15 minutes to present and 15 minutes of Q&A.