Athletics
Student Athlete Drafted by Pittsburgh Pirates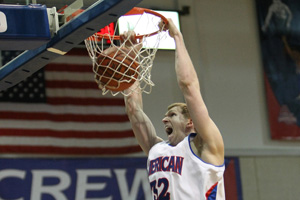 Stephen Lumpkins, BSBA '12, might have grown up a Giants fan outside of San Francisco, Calif., but he jokes, "I'm a Pirates fan now."
The rising junior - who's on the American University basketball team - was chosen by the Pittsburgh Pirates in the 42nd round of the Major League Baseball First-Year Player Draft on Wednesday.
Lumpkins played baseball regularly through high school and is currently on a collegiate summer league team, but he's better known at AU for his basketball prowess. The forward started 26 games during his sophomore year and averaged 13 points and 8.5 rebounds this past season.
Baseball became his focus again when he was home for the summer of 2009 in California, and Lumpkins began recruiting basketball teammates to "play catch" with him in the team's off-time.
The 6'8" athlete chose AU for its "combination of athletics and academics," citing the business school's reputation as one of the reasons he chose to pursue a bachelor's of science in business administration. He's currently weighing a specialization in marketing, having recently enjoyed a class on the subject taught by Executive-in-Residence Lance Erickson.
Though he hasn't yet decided whether he'll accept the Pirates' offer – Lumpkins has until mid-August to sign – he's excited to have impressed the scouts with his performance.
"I'd like to pursue a career in professional baseball," he says.