On Campus
Advice for Kogod's Class of 2014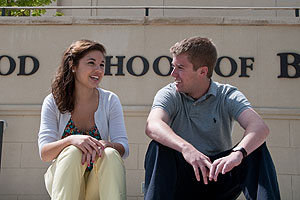 Going to college is both exhilarating and overwhelming for many incoming freshmen. 
We've assembled a few key pieces of advice - straight from Kogod students and staff - that can help the members of Kogod's Class of 2014 get a head start before they arrive on campus.
1. Get involved (and try to do it early). 
"Figure out three clubs or activities you want to be a part of even before school starts and make sure you join them right away. I enjoyed school exponentially more once I joined the co-ed business fraternity, Alpha Kappa Psi. It was the smartest decision I made, because I really felt a part of the school." – Nicole Bono, BSBA '13
"Participating in clubs and activities is a great way to get to know other students, the campus, and even the DC community. Start making connections by getting involved during your first semester at Kogod." –Tracy Landers, Kogod Associate Director of Programming and Student Activities
"In my freshman and sophomore years I did the best to step out of my comfort zone, pledging Alpha Kappa Psi and even joining the crew team – quite a change from being a band geek in high school – and those were some of my best experiences in college." –Alex Priest, BSBA/BA '11, Peer Mentor
2. Know what's happening on and around campus.
Today@AU is a daily campus-wide email that broadcasts announcements and event info to the entire campus community. Every Tuesday, Kogod's BizUndergrad email newsletter features special events and opportunities for Kogod undergraduate students. The announcements include internship listings, club events, global learning trips, case competitions, and more.
"Take advantage of both the opportunities at AU and in the district. D.C. is a great city to explore and the internship opportunities are endless." –Ariel Jahner, BSBA/BA '12, Peer Mentor

"Attend interesting speakers and professional workshops. Kogod puts on awesome events!" –Adam Powers, BSBA '11

"Be engaged in your community. Make yourself an educated member of the campus. Don't let opportunities pass you by, but be responsible and realistic about how much you can do." –Maura Clark, KCCD Undergraduate Advisor

"Attending events at AU is a great way to meet other students, learn more about different fields, and may even help you get an internship. Alumni and corporate partners often attend speaker series, career fairs, the case competition, the golf outing and more, and they want to meet you!" -Tracy Landers, Kogod Associate Director of Programming and Student Activities
3. Learn about business with the Kogod Center for Career Development (KCCD).
"Get familiar with what the KCCD does. You have a really unique resource, with people dedicated to your career development. There might not be another time in your life when you have that – so take advantage of it." –Amit Puri, KCCD Undergraduate Advisor

"Pursue everything that interests you. Don't hesitate to attend an informational meeting, professional speakers, or meet with your professors during their office hours. You will find that the resources you are given here are endless and entirely beneficial." –Denae Thibault, BSBA '11, Peer Mentor

"It is never too early to start networking and learn what you have to do to succeed not only at American, but in life as well." –Ross Cybul, BSBA '12
4. Manage your time - and make time for new things.
"Prepare to say goodbye to your family and say hello to independence. Don't get carried away though. … Plan your budget, your study time, and your nap time – believe me, you are going to need it." –Mercedes Beras-Goico, BSBA '11, Peer Mentor

"Time management isn't easy, but it's vital. If you don't know how to manage your time, you will eventually learn the hard way." –Matthew Shukaitis, BSBA '13

"Get out of that 'I'll do it next year' mentality. If you see something that interests you, just do it now. It may not be an option for next year, so why miss out on a great chance now?" –Nicole Bono, BSBA '13

"The 'yes' principle: if you don't have a good reason to say 'no,' you say 'yes.' It makes life a lot more interesting. ...Seize every and any opportunity and try everything once! If it doesn't work out, hey, at least you gave it a shot, and hopefully you'll have a good story to tell along with it." –Julie Wu, BSBA/BA '11 Peer Mentor
5. Connect with Kogod faculty, staff, and peer mentors.
"Get to know your professors by going to their office hours. Connect with the deans. They're easily accessible and value your concerns and opinions." –Matthew Shukaitis, BSBA '13

"Don't be afraid to ask questions and meet new people. Your mentor is your key to unlocking AU. They've been there, they know people. Use them!" –Christian Kingston, BSBA '11, Peer Mentor

"You have time, but it's important to explore the broad field of business early, with clubs, internships, job shadows, and informational interviews. [The KCCD] can help you come up with a plan on what would be best to pursue and how to do them." –Amit Puri, KCCD Undergraduate Advisor

For more advice from your Peer Mentors, check out their profiles in the Quick Links on the sidebar.