Student Life
Emerald City Attracts Students for Spring Break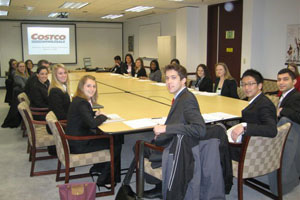 Seventeen students from American University's Kogod School of Business traveled to Seattle during spring break for the annual Road Scholars program. Road Scholars is a for-credit study tour that provides students with an opportunity to experience business outside of Washington, DC. Each year, Road Scholars travels to a major city for corporate site visits, networking, and site-seeing. In Seattle, students visited with executives from Starbucks, Costco, Boeing, Amazon.com, Microsoft, and Quest Field - home of Seattle's NFL team the Seahawks.

In preparation for the trip, students prepared a company summary and then served as hosts at each site visit, sharing the company's overview and introducing the corporate speaker.

"Road Scholars offers a unique opportunity to gain insights into the various aspects of business," said one of the Seattle participants. "The program allows students to experience business firsthand and see how it operates in the real world, enabling students to apply classroom knowledge in real life settings." This year's program provided students with many unique opportunities including tasting the latest Starbuck's product and viewing the "future home" exhibit at Microsoft. In addition to visiting companies, students attended an American University alumni network dinner, attended by over a dozen Seattle area alums. The group also participated in the Savor Seattle Food Tour. Students tasted food from nine local vendors and met the 27 year old food tour owner, who shared her entrepreneurial experience and wisdom.

"We were given the opportunity to meet and network with corporate executives and alumni, while comparing corporate cultures between the east and west coasts," said another Seattle Road Scholar participant.

Students gained firsthand insight into the Costco corporate culture during their site visit. While, waiting in the lobby for their meeting with the CFO, a man leaving the building approached the group and asked if he could escort them upstairs. One student immediately recognized the man, Jim Singeal, the founder of Costco.