In the Community
Giving Back is a Year-Long Commitment for MBA Students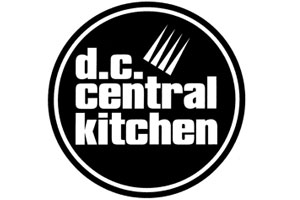 Kogod MBA students set aside time over their busy summer breaks to participate in a special "Making a Difference is Our Business" service project.  The co-curricular program, which launched this past academic year, provides MBA students an opportunity to work together on volunteer projects in the Washington, D.C. community.
Five MBAs, including one from the incoming fall 2009 class, joined together to help out at the DC Central Kitchen (DCCK) this summer.  Kogod volunteers wearing hairnets and aprons, peeled, sliced and washed pounds of sweet potatoes and cabbages.  Students worked alongside formerly homeless individuals training in the culinary arts through DC Central Kitchen's Culinary Job Training program. The goal of the program is to prepare unemployed, underemployed, previously incarcerated persons, and homeless adults for careers in the food service industry.
"I've always been enamored with D.C. Central Kitchen because of its commitment not to just give handouts, but also provide culinary training to the local community," said Claire Huber, part-time MBA and co-president of Kogod's Net Impact club.  "As a restaurant industry professional myself, I find this to be a unique and great path for those interested in food service as a career. Getting to know fellow students and other volunteers from other organizations is the icing on top."
The vegetables that the volunteers helped prepare had been donated by local farms and supermarkets and were used in meals to benefit various community service organizations.
The students had the opportunity to chat with one another, as well as meet other volunteers, at their food preparation stations. This fall, "The Making a Difference is Our Business" program will begin monthly service events.