Achievements
Kogod faculty recognized for merit in teaching, research, and service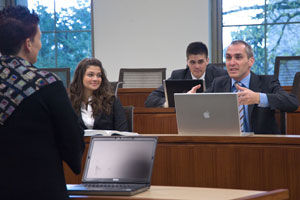 "At Kogod, we think it's critically important to recognize and reward individual contributions," says Senior Associate Dean Kathleen Getz.
In keeping with that sentiment, Kogod is pleased to announce the achievements of several distinguished faculty members.
Finance Awards
Kimberly Rodgers was the recipient of the 2008 Fama-DFA Prize for a paper she co-authored that was published in the Journal of Financial Economics. The paper, "Inter-firm Linkages and the Wealth Effects of Financial Distress Along the Supply Chain," explored the effects of financial distress and bankruptcy on a company's customers and suppliers and investigates the importance of industry structure, specialized product nature, and leverage on supply chain effects. Rodgers teaches Introductory and Advanced Financial Management in the MBA program.
Gerald Martin was awarded the William F. Sharpe Award for Scholarship in Financial Research, based on a paper he co-authored entitled "The Cost to Firms of Cooking the Books," which ran in the Journal of Financial and Quantitative Analysis last fall. The award recognizes the researcher(s) with the best article published each year in the journal.
Martin teaches Business Finance and Intermediate Corporate Finance courses for undergraduates and a Quantitative Methods in Finance course for graduate students.
Merit Awards
Additionally, a number of faculty members earned merit awards based on evaluations by their department chairs and the Kogod deans. Only faculty members who earned an "excellent" rating – the highest – received a merit award.
"In addition to private and public 'thank-you's,' formal awards are important," said Getz. "For our tenured and tenure-track faculty, we have established merit awards for all dimensions of faculty contributions – research, teaching and service – thereby acknowledging the variety of ways that faculty add to our success."
In the Research category, recognized faculty included: Ronald Anderson, Barbara Bird, Peter Chinloy, William DeLone, Augustine Duru, Manoj Hastak, Tracey King, Leigh Riddick, Kimberly Rodgers, Ed Wasil, and Xiaomeng Zhang.
On the basis of Teaching merit, Anusree Mitra, Ajay Adhikari, Ronald Anderson, H. Kent Baker, Heather Elms, and Don Williamson were awarded "excellent" ratings.
In the Service category, Erran Carmel, Peter Chinloy, William DeLone, Richard Linowes, and Leigh Riddick were recognized. Sue Marcum and Philip English received merit awards for both their teaching and service excellence.