On Campus
Case Competition Invitations Kick Off Finance and Real Estate Month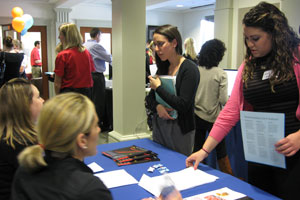 October marks the start of Finance and Real Estate Month, when focused events organized by the KCCD are intended to further align students with their future career goals in the finance and real estate industry. 
The month began with good news for the real estate program: undergraduate and graduate real estate students have been selected to participate in two case competitions that are invitation-only.
"We're thrilled that our students have been invited to compete in these competitions, which shows that our school is gaining visibility based on the strength of our program," said Professor Peter Chinloy.
The undergraduates will compete in Cornell University's November 12 competition, where judges will hail from Wall Street firms Goldman Sachs and JP Morgan and TIAA/CREF. Six schools, including the University of Connecticut and the University of Texas-Austin, will participate.

The graduates' competition will take place in April 2009. The National Association of Industrial and Office Properties case competition is a regional competition, with competitors from Georgetown University, Johns Hopkins University, George Washington University, and the University of Maryland.

The month-long series of special events begins with a lecture by former Assistant Treasury Secretary of Economic Policy Phillip Swagel on Wednesday, October 7. Swagel will share his inside perspective on the financial crisis and his experiences working for the Treasury Department and reporting directly to Secretary Henry Paulson.
Beginning October 14, the New York City Fall Finance Trip will offer participating students visits to financial companies, networking opportunities and social engagements. Registration for the three-day trip to the Big Apple was open to all AU students but was capped at 25 participants, and preference was given to students who demonstrated a strong interest in the finance and investment industry.
Finance and Real Estate Day on October 28 is the featured event of the month. This event will bring together leading financial and real estate companies, as well as students interested in these sectors. Students will be provided with an opportunity to network, learn more about various internships and explore exciting career opportunities with participating organizations.

The KCCD's fall semester line-up will culminate with the Information Technology industry month in November.