In the Community
Washington Initiative Students Volunteer With Housing Nonprofit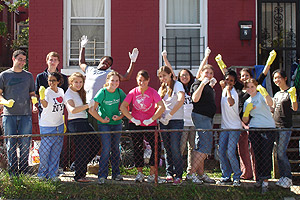 Fourteen undergraduate students spent their Saturday morning cleaning – not for themselves (or their parents), but for an underprivileged family readying to move into transitional housing.
The students are enrolled in Kogod's Washington Initiative course, which has partnered this fall with Hope and a Home, a nonprofit that aids local families in need of affordable housing, financial literacy training, and other assistance.
The students and their instructor, Allison Holcomb, cleaned and painted an apartment; the previous tenants recently graduated from the nonprofit's three-year program, and a new family is moving in. Hope and a Home focuses on the Shaw and Columbia Heights neighborhoods in central Washington DC.
While Saturday's volunteerism addressed an immediate need – getting a living space ready for a new family – the Kogod students are consulting on the nonprofit's long-term needs as well. Those needs include programming for educational outreach in city schools.
"The bulk of this class involves the students working together on a video project for Hope and a Home," explained Director of Programming & Student Activities Allison Holcomb. Hope and a Home will use the student-produced video during educational programs at elementary schools.
Representatives from Hope and a Home will visit Kogod on October 14 to see the Washington Initiative students' finished product.