On Campus
Pentathlon Competition to Feature Real World Case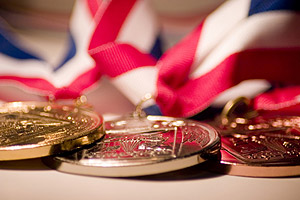 Have you ever wanted to compete on "The Apprentice"?
You'll have your chance at Alpha Kappa Psi's Pentathlon on Saturday, October 24. The Pentathlon is an Apprentice-style case competition where teams work to develop winning strategies for five major components of business: finance, accounting, marketing, philanthropy, and public speaking.
For the first time, this year's competition will feature a real-life case scenario. Although the organization's name has not been disclosed, event coordinators promise that it has a prominent reputation and supports a worthy cause.
The Pentathlon team with the highest scores will earn the opportunity to implement its ideas to enhance the organization.
The case studies will be judged by Kogod Professors Robert Edgell and Robin Lumsdaine along with Ted Williams, founder of GrouperEye.com, a website dedicated to posting real cases from existing companies for college students to solve.
Student groups will be judged on all five business components; a networking reception will follow the judging, where both Kogod faculty and other DC-area professionals will be in attendance.
Undergraduate business students are encouraged to form teams and participate in this upcoming event. The deadline to register is Saturday, October 17.
Last year, then-freshman student Samantha Dina, who is presently serving as Pentathlon Chair, was a member of the winning team. She highly encourages student involvement, explaining that "by participating in the Pentathlon last year, I was given the opportunity to get involved with the Kogod society."
The event runs from 10:00 a.m. to 6:00 p.m. on October 24. For more information please see the Quick Links section to the right.