Professional News
Dean Durand Elected President of Regional Association of Business Schools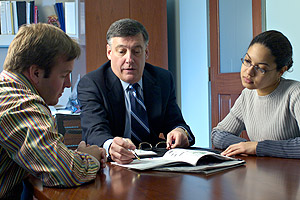 Robert and Arlene Kogod Dean Richard M. Durand is the newly appointed president of the regional professional association for business schools.
MAACBA, or the Middle Atlantic Association of Colleges of Business Administration, is a regional chapter of the Association to Advance Collegiate Schools of Business (AACSB), the international accrediting association for business schools.
"I look forward to this leadership opportunity to work with my colleagues and their institutions to rigorously promote and improve collegiate business education," said Durand.
MAACBA is one of seven regional AACSB associations and is comprised of more than 130 institutions in Pennsylvania, New Jersey, Maryland, New York, Delaware, and Puerto Rico.
The organization aids interactions between speakers, experts and school administrators that tackle important issues facing business education.
MAACBA held its annual meeting this month at Shippensburg University's John L. Grove School of Business in Harrisburg, PA. Kogod was privileged to host last year's annual meeting in Washington, D.C.
Dean Durand will succeed previous MAACBA President William M. Moore, of Fairleigh Dickinson University's Silberman College of Business in New Jersey.