Alumni
Firm visits, alumni interaction are highlights of Fall Finance Trip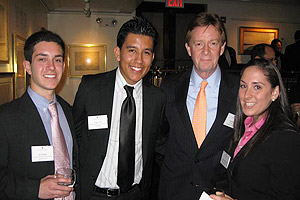 It may have been a cool and rainy few days in the Big Apple, but the weather couldn't dampen the spirits of the students on Kogod's Fall Finance Trip to New York City.
After all, they were inside the offices of some of New York's most prestigious firms, where they experienced the companies' culture firsthand through meetings with alumni and recruiters.
All told, the group made six site visits, to AllianceBernstein, Bloomberg, Brookfield Properties, Goldman Sachs, J.P. Morgan, and UBS.
"This trip was about career exploration; it was to help the students get a sense of what positions are available to them in New York City," explained Meghan Hayde, associate director of corporate relations for the Kogod Center for Career Development. "They could see the practical, logistical issues and are exposed to our alumni who have been successful in New York."
And they did; students cited "excellent speakers," and "the alumni and their openness" as their favorite parts of the trip. One student described a tour of the trade floor – "a great experience" – while another said having senior executives present to the group was "an honor and a privilege."
Students reported that they gained knowledge of trading, wealth management, investment banking, real estate and corporate finance, among other industry niches.
Aside from the site visits, students had the opportunity to dine with alumni at the Union League Club on Wednesday night. Leaders of industry were invited to share their success stories, and David Bagatelle, president of Herald National Bank, spoke about his experience starting a bank during the economic crisis. The dinner was hosted by alumni Robert and Edythe Fensterman, both graduates of the Class of 1981.
On Thursday evening, a networking reception at McCormick & Schmick's featured young professional alumni, who spoke with students about their transitions to the workforce in New York. 
Twenty-six Kogod students, including both graduates and undergraduates, participated in the three-day trip.