On Campus
Pentathlon Winners Developed Drink to Benefit Cancer Charity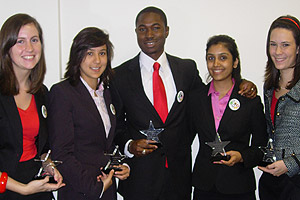 If you order a vanilla peppermint latte at the SIS' Davenport lounge the week before Thanksgiving, you'll get more than a tasty treat – you will also be contributing to the charity Gilda's Club, which supports families that have been affected by cancer.
The charity can thank five Kogod students for the extra dough: Megan Mclaughlin, Ayesha Abbasi, Nora Nezamuddin, Michael Lalaye, and Morgan Kingsland made up the winning team at Alpha Kappa Psi's second annual Pentathlon competition. The teams were charged with developing a special drink to be sold at the Davenport for a good cause.
The students chose a drink (in the winners' case, a "Gilda's Love Latte"), developed a cost analysis and pricing structure based on its ingredients, created a training guide for Davenport staff, and developed a marketing campaign to connect the drink to a philanthropy. 
Seven teams competed to win the case, which was designed by Alpha Kappa Psi members with support from the K-LAB. The teams presented their plans to judges Professor Robert Edgell, Professor Robin Lumsdaine and Ted Williams, founder of GrouperEye.com.
Now the victorious students have the opportunity to work with the judges to implement their plan over the next few weeks. 
"Aside from providing us with the opportunity to develop an innovative product and strategy, the Pentathlon allowed us to actually implement our ideas on campus and make a difference by contributing to a charity at the same time," said Ayesha Abbasi, a member of the winning team.
The Gilda's Love Latte can be purchased from November 15 – 21 at the Davenport.