Communications
Communications Consultant Publishes "Flash Fiction" on Mobile App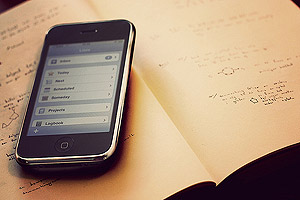 Have you ever yearned for mobile fiction at your fingertips – short, quick prose that meets the compressed attention span of the digital age?
There's an app for that.
And it's populated with stories from talented writers, including Peter Levine, senior consultant with the Center for Business Communications at Kogod.
The TripleQuick Fiction iPhone app was developed by featherproof books, a Chicago-based indie publisher. It launched with a dozen pieces of "flash fiction" – extremely concise stories, in this case no more than 333 words, the length of three iPhone screens. The $1.99 app also allows users to compose and submit their own stories in real time.
"Flash fiction stories are a lot of fun, and you read them very quickly," Levine explained. "It's a kind of commuter express for fiction."
Levine provided featherproof with a satirical piece on rejections when job hunting – ironic, considering he's one of the most recently-hired members of the Center for Business Communications' staff.
The story was a departure from Levine's customary fiction work, which mainly includes traditional short stories; he's published in a variety of literary journals, including The Southern Review, The Missouri Review, and Storyquarterly.
His work has also appeared in mainstream media outlets such as The New York Times and Tribune Media Services, and he's served in professional public relations and communications roles for the public relations firm Fleishman Hillard and Kraft Foods.
Here at Kogod, Levine leverages his experience in one-on-one personal coaching sessions with students who are looking to improve their written work and oral presentation skills.
For more information, visit the Center for Business Communciations' webpage through the link on the right.