Achievements
Part-Time MBA Program Ranked Second in Nation for Student Satisfaction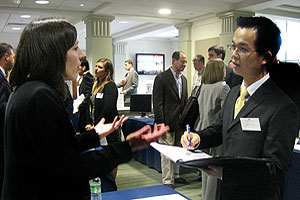 In BusinessWeek magazine's latest Part-Time MBA Program Rankings, Kogod's program placed 2nd for student satisfaction among all programs nationwide. Kogod also ranked 8th in the Mid-Atlantic region and 47th in the overall national rank; this marks the first time Kogod's part-time MBA program has been ranked by BusinessWeek.
In addition, the BusinessWeek survey revealed another area of distinction: Kogod's part-time program was particularly noted as best for both job changers and career shifters –students who plan to use their degree to change their career track or job description.
Finally, the Kogod Part-Time MBA program received the highest possible scores of "A+" for teaching quality and curriculum, and an "A" score for caliber of classmates.
"This ranking is a reflection of the outstanding quality of our students, our faculty and our program," said Robert and Arlene Kogod Dean Richard M. Durand. "Pursuing an MBA is a significant commitment, and this ranking is confirmation that our part-time program meets the needs of our students while upholding Kogod's high academic standards."
To compile the ranking, BusinessWeek collected student surveys from the part-time MBA Class of 2009. The survey measured general student satisfaction along with their specific opinions on teaching quality, caliber of classmates, and curriculum.
The student-submitted data was measured against an academic quality score that was based on six equally weighted measures: students' average GMAT scores, work experience, percentage of tenured faculty who teach part-time MBA classes, average class size, available electives, and the program's completion rate.
The BusinessWeek ranking considers all AACSB-accredited business school programs in the country.
"It's especially rewarding to receive such high grades from our students on their satisfaction with the program," said Kogod Director of Graduate Programs Anne Ferrante. "We believe student satisfaction sets us apart on both a regional and national level."
"The professors all have industry experience that was relative to what they were teaching," one student commented on the survey. "Many had other full-time jobs that allowed them to bring in guest speakers who could offer a different perspective or view on the classroom materials."
"It's a great program with many different career tracks/concentrations, great academic advisors and nice professors," wrote another student. "Its small size has been an asset for me."
The Kogod program was also ranked 49th in the nation for Post-MBA Outcomes, a measure that was based on the percentage of student survey respondents who said the program was "completely" responsible for them achieving their goals.
To view the BusinessWeek rankings, visit http://www.businessweek.com/bschools/rankings/.