On Campus
Deloitte Consultants Help Select Finalists for Case Competition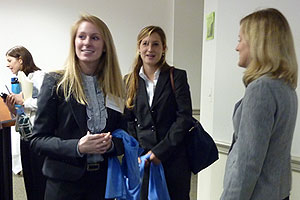 Benjamin Silver, John Cannon, Megan McLaughlin, and Stacia Klim were in the hot seat Wednesday morning. The undergraduate students had just finished presenting their case to an intimidating panel of judges – including Professors Bob Sicina, Bill DeLone, and Deloitte consultant Meredith Fromnick – and they'd reached the question-and-answer period with about five minutes left on the clock.
The judges didn't hold back.
They asked about employee training, accountability, and motivators. They wanted to know more about the feasibility of hiring new employees from the outside or re-distributing existing employees to solve communication issues within the company.
And Team A - Silver, Cannon, McLaughlin, and Klim - had to field their questions, if they wanted to reach the next round of the inaugural Deloitte Battle of the Beltway Case Competition in January.
Wednesday marked the first round of the competition, which is sponsored by Deloitte Consulting; three finalist teams were chosen from American University to move on to the second round, which will take place at George Washington University on January 21, 2010.

Deloitte representatives visited campus to contribute to the judging process; they will also visit George Washington University, Georgetown University, and Howard University to select finalists at each respective school. AU had the highest number of teams participating in the first round of all the competing schools.
Culled from the six preliminary teams, this year's AU finalists included the team of Erica Ruzic, Linsey Sledge, Michael Rourke, and Christian Becker; the team of Ed Levandoski, Mike Zhang, Will Torgerson, and Brooke Sheppard; and the team of Matthew Ainsley, Natalie Kalas, Erik Wallace, and Ursula Chavez.
Deloitte representatives urged all students who participated in the case competition to consider the Deloitte internship program, regardless of how their individual team placed.
"It's wonderful Deloitte is here," Professor Peter Chinloy told the students before the announcement of the winning teams. "We want you to know what's happening in the business world." Professor Bill DeLone agreed, "These activities are an important part of your career development."
Indeed, the visitors from Deloitte presented constructive feedback to all teams before singling out the winners.
They stressed the importance of presenting alternatives the team considered before reaching a conclusion; they emphasized that all solutions, even those that don't involve IT, should be considered. One consultant spoke about the importance of storyboarding a presentation to ensure it remains targeted and maintains a flow.  
"The case competition is a great way for AU students to showcase their great analytical skills and get a sense of what a typical consulting project entails in the Federal space," said Deloitte Consultant Stephan Kallus.
In fact, the case that student groups were presented with was based on a Deloitte project from last year. When the Deloitte representative shared the solution that was implemented in real life, he noted, "Some of you were headed this way, so good job. We saw a lot of strong presentations."