Business
Students Test Elevator Pitches on Business Leaders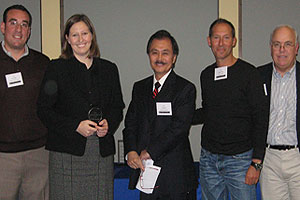 Do you know how long it takes to ride the elevator to the top of the Washington Monument?
The answer is 140 seconds – a timeframe that sails by for tourists, but not for the more than 30 participants of Kogod's Washington Monument Elevator Pitch Competition.
The participants had exactly 140 seconds to win over the competition's judges with their elevator pitch – a concise, well-planned description of an idea for a product or service. The term was derived from the idea that a good salesman should be able to recruit an investor in the time it takes to ride an elevator.
The student competitors were striving to impress a panel of local business owners and entrepreneurs, two of whom – Jonathan Aberman and Don Rainey – have previously served as visiting professors at Kogod. Entrepreneurial ideas ranged from the culinary (a barbecue sauce concoction) to the aerobic (a fitness program for moms).
From the graduate side, the winning teams were: 
First Place 
Steppe Cashmere Company   
Matt Weiner (Presenter), Brooke Millis and Imad Benrabah  
Second Place 
FoodYouEat 
Srikrishna Raman (Presenter), Natalia Volkova and Cara Fleck  
Third Place 
Dastardly Brews   
Phil Greiner (Brooke Millis presented in Greiner's absence due to class)
From the undergraduate side, the winners included:  
First Place 
Two Friends' Barbecue Sauce 
Naveed Moghadam (Presenter), Caitlyn McElroy, Karsten Smith  
Second Place 
Hot Mama Fitness 
Klaenyza Pritchard (Presenter)  
Third Place 
XRayit 
Dor Yasur (Presenter), Ryan Leonard
Participation in the event drew largely from students in two classes: a management class taught by Professor Richard Linowes and an IT class taught by Professor Lee Miller.
The competition was organized by Professor Stevan Holmberg, chair of the Kogod Management Department.