International
Kogod Prof: Real Estate Investments at Heart of Dubai Debt Crisis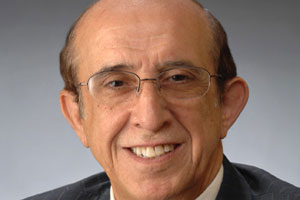 Kogod's expert on sovereign wealth, Professor Ghiyath Nakshbendi, says the debt crisis that Dubai is facing boils down to bad real estate investments, a situation that the United States can relate to.
"Dubai is no exception," Nakshbendi explained. But the United States' exposure to the situation is limited, as most of the loans owed by the Dubai World Group -- the conglomerate at the center of the crisis -- are held by British banks.
The key to understanding the situation lies in the difference between a corporate loan and a sovereign loan, Nakshbendi said. A corporate loan is a more risky investment, as a company can go bankrupt at any time. A sovereign loan, which is a loan made to a government entity, carries almost zero risk if it is guaranteed by a stable government.
In the case of Dubai World, which currently carries a debt of about $60 billion, the city state-owned conglomerate took out corporate loans, acting as a company and not a government entity.
According to Nakshbendi, many of the Dubai World's subsidiaries are performing well.
The subsidiary at the crux of the issue is Nakheel Properties, a real estate investment company that is responsible for high-profile development projects; it also owns the retired ocean liner Queen Elizabeth 2, which it planned to convert into a luxury hotel. The Palm Islands, artificial islands located off the coast of the United Arab Emirates that are in the shape of a palm tree, are one of Nakheel's projects.
Nakheel owes close to $30 billion in debt and publicly asked creditors last week for a six-month reprieve on debt payments as it restructures.
Nakshbendi theorizes that the UAE's largest emirate, Abu Dhabi, will step in and bail out Dubai; Abu Dhabi is the wealthiest of the seven emirates.
"They don't want to jeopardize the reputation that Dubai has built up in the tourism and real estate industries," he explained. "Investments are all about confidence; once it's lost, it takes a long time to recover from the stigma."
The UAE is becoming less dependent on natural resources as a revenue source and is increasingly reliant on construction, development and hospitality. 
In the end, Nakshbendi said the crisis should be only a "hiccup" in the UAE's growing economy, "but it will take awhile to rectify the situation," he said.
As for the timing of Dubai's announcement, Nakshbendi reflected that it came at an ideal time from the company's perspective: the United States was distracted with the Thanksgiving holiday, and the Muslim world was celebrating the Eid al-Adha holiday on November 27, which lasts for three days or more.
On Wednesday the UAE marked the 38th anniversary of the unification of the seven emirates into the United Arab Emirates.