In the Community
Student Team Helps Nonprofit Bakery Get Cooking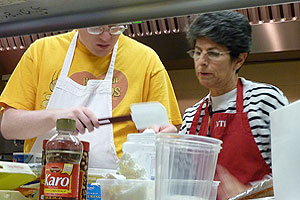 This holiday season, the creators of Sunflower Bakery have much to be thankful for: their brand-new nonprofit bakery is up and running, training developmentally disabled adults with new skills.
From conception to execution, the bakery's launch required the effort of many people – including five Kogod students and their faculty advisor, Professor H. Kent Baker.
The graduate students – Mark Johnston, Steve Anderson, Rustin Pearce, Jeff Kochiss, and Zaid Sultan – completed consulting work for Sunflower last spring through KSB-688, the Applied Business Practicum. By developing a business plan, they allowed the creators to focus on building the organization's philanthropic side. 
Kogod's consulting practicum provides students with live experience, which means meeting face-to-face with the client. "For a nonprofit like Sunflower, the student experience is particularly gratifying," said Professor Bob Sicina, who currently teaches the practicum. "For the team now to see their work as part of a working operation, well, that's quite frankly over the top."
The student team began the project in January 2009, when Sunflower was "in the vision stage," explained founder Laurie Wexler. "We were applying for our nonprofit status. It was all very new, and it was at a great time for them to get involved."
Wexler brought the idea for the bakery to friends who have professional experience working with disabled adults and their families -- one of whom was co-founder Sara Milner. A third co-founder, Dina Leener, later joined the two.
"[Disabled adults are] population that typically has a 70 percent unemployment rate… so any opportunities that exist for on-the-job training are really sought after," Wexler explained. "There's a real dearth of positions."
Wexler and Milner provided the Kogod students with a success story to emulate: Virginia Beach-based Sugar Plum Bakery, a 24 year-old bakery and accredited rehabilitation facility that offers job training to young adults with developmental disabilities.
Model in hand, the students set out to draft a feasibility analysis, a marketing study, and other deliverables for Sunflower. 
"On some levels it was quite easy to apply a wide range of tools that we have acquired at Kogod … including our approach to marketing the bakery, performing competitive research, and developing a financial plan," explained Steven Anderson (MBA '09). "On the other hand, it required us to adapt our approach to business challenges because Sunflower Bakery is a nonprofit institution and profit maximization is secondary to the social benefit that it provides."
"The students were very interested in us becoming self-sustaining, but as a nonprofit, what we need to do is fundraise," Wexler explains. "So our gross receipts may never be 100 percent of our revenue; we need a board of directors and community support."
But revenue was still vital, and Wexler decided to carve out a market niche for the bakery by producing only kosher products that meet the highest kosher standards. "This enabled us to reach the widest spectrum of Jewish clientele in this region," Wexler explained.
With the students' recommendations in hand, Wexler and her cohorts began a pilot program in early June that lasted for three months. In September the bakery began operating at full capacity in donated kitchen space at the Beth Sholom Congregation and Talmud Torah synagogue in Potomac, MD. Wexler is hopeful that they'll secure a storefront location shortly.
The bakery currently employs seven trainees with eight volunteers on an ongoing basis. The only paid employee is a professional pastry chef who assists with mentorship.
Now that Sunflower is building a client base, the focus is on increasing production. The employees – volunteers and trainees alike – are hard at work filling orders for homemade holiday cheer, including mandel bread, raspberry linzer bars and chocolate crinkle cookies. They maxed out on orders for Thanksgiving week and are looking ahead to a special Chanukah menu.
"This practicum was truly a win-win situation for all," said Professor H. Kent Baker, who advised the student team. "It serves a perfect example of how a business school can serve its community."