Achievements
Hayde, Landers Honored With Kogod Staff Award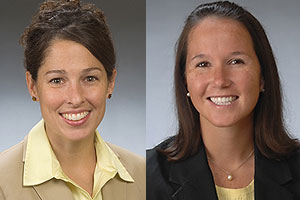 Meghan Hayde and Tracy Landers are the recipients of this year's Making a Difference Staff Award at the Kogod School. The winners were announced at a Kogod Council Meeting on Dec. 1.
The award is presented annually to two Kogod staff members who have performed above and beyond their job expectations and have "vastly contributed" to the Kogod community. Nominations are submitted along with a statement of support; the winners are selected by a committee of six professional staff members.
Both Hayde and Landers were thrilled to receive this recognition from faculty, staff, and other colleagues. 
Hayde, the Associate Director of Corporate Relations at Kogod's Center for Career Development, explains that she was taken off-guard to be selected. "Kogod has such an amazing team of staff who constantly strive to provide the best possible service to our students and I'm just glad to be part of that," Hayde said.
Her nominators weren't as modest, writing, "In the face of many challenges - from building corporate connections from the ground up, expanding alumni-employer networks, and ensuring students have internships and jobs upon graduation - Meghan took on every challenge with a smile and a positive attitude."
Another noted, "Meghan has found ways to connect to students to give them the confidence to move forward with their career pursuits in addition to supporting them in the other areas that they choose to share with her."
Dedication to students is a topic that also emerged in Lander's nominations. Landers serves as Associate Director of Programming and Student Activities.
"Tracy emphasizes the strength of shared resources and encourages  students' engagement with one another, recognizing that it  can be just as meaningful as their engagement with faculty or employers," wrote one nominator.
Landers' passion for volunteerism was also recognized – a commitment that "has meant that service is a bigger part of the Kogod experience," another nominator wrote.
"I've truly enjoyed developing the community service program because it has given graduate students another, different way to get involved and it helps connect Kogod and the Greater DC community," Landers said.
Hayde and Landers will each receive a letter from the dean, a certificate of achievement, a copy of their nominations, and a $500 award. Their names and award year will be added to a plaque in the Kogod building.
Last year's recipients included Communications Director Bonnie Auslander and Allison Holcomb, Director of Programming & Student Activities.