On Campus
Edge of IT Project Introduces Underclassmen to Competition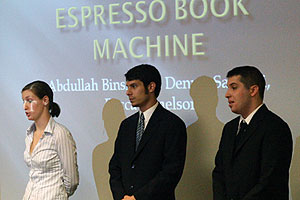 Heavy snow fell on Saturday, blanketing the AU campus and causing most local residents – and students – to choose to spend their day off indoors.  
That's not what the five student teams at the IT Department's 6th Best in Class Competition chose. The teams had been culled as finalists from a pack of 40 teams by Professors Carmel, Lee, and Klein.
And the snow didn't hold back the competition's judges either, a group of Kogod supporters and alumni who hailed from NPR, Deloitte Consulting, Global Defense Technology, and FINRA. Staff from Bender Library and the OIT also participated.

The students, underclassmen participating in their first externally-judged competition, dressed in their business attire and nervously prepared to win over the judges with their presentations.  
The assignment: identify a new technology and assess its potential business impact.
Abby Binshaieg was a member of the iPod shuffle-winning team along with Becca Samelson and Dennis Saneski. The team selected an Espresso Book Machine that prints, binds, and trims paperback books on demand.
The machine can produce a book -- in a variety of languages -- in roughly three minutes at a cost of about five dollars. Binshaieg's team proposed that the machine would reduce the costs of goods sold, labor costs, and inventory depreciation while increasing net income at a major bookstore chain.
"It was overall an incredible experience to stand before the group of judges to present a product that I sincerely wanted Borders to gain," Abby said. "This project also made me realize I wanted to minor in information technology."
Professor Jill Klein says the judges also felt it was a worthwhile experience. "Without exception, they were extremely impressed with the caliber of our students," Klein said. 
Judge Lily Ladd (MBA '09), of Deloitte Consulting, concurs.
"In my academic and professional experience, I have heard many new technology presentations and these were some of the most compelling, both aesthetically and intellectually, I have ever heard from the undergraduate level," Ladd said.
The students and judges have the professionals from the Center for Business Communications to thank in large part for the aesthetics; BizComm staff helped the students polish their PowerPoints and presentation skills.
Communications Director Bonnie Auslander says the competition highlights the importance of practicing those skills to an outside panel. "This initiates them into Kogod and into IT," Auslander said. "For many of them, this is their first team experience and first presentation in Kogod."
The runner-up team of Chris Acher, Paul Bared, Patricia Panyi and Sophie Wilmot shared their research on HarvestMark, a system that allows tracing of produce through the supply chain.
For further information about the IT Review competition and the Information Systems and Technology undergraduate concentration, please visit the link in the above right-hand column.