International
Kogod Advisor Honored by French President Sarkozy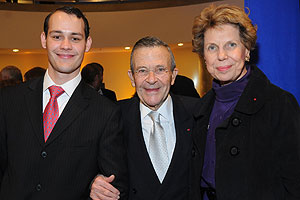 A trusted Kogod advisor has been awarded the title of Grand Officier de l'Ordre National du Mérite by Nicolas Sarkozy, president of France. The award is bestowed upon select French nationals to recognize their distinguished achievements in France and abroad.
Dr. Michel Le Goc is one of less than 250 recipients to receive the grand officer level of national merit award since its inception.
Le Goc is an international business development specialist who has been implementing alliances, joint ventures, mergers, and acquisitions for over thirty years.
He began his business career after 18 years of military service as an Air Force pilot both in France and the United States, and also served as a member of the supervisory agency of the French Department of Defence.
After leaving the military, Le Goc became intensely involved in business management. He held the position of corporate director at fifteen corporations, chairman of the board at six and CEO at two.
A graduate of the French Air Force Academy and a recipient of degrees in engineering, law, and economics, he is now focused on developing his consulting work as an advisor to CEOs, particularly heads of leading research laboratories specialized in the fields of molecular chemistry, marine biology, coral breeding, rehabilitation, and medical transplant.
In addition to his twelve years teaching about international technology transfers at Kogod, Dr. Le Goc also taught at the University of Geneva.
His daughter, Claire (MBA '06), is also a graduate of American University's Washington College of Law (JD '04) and an attorney with Debevoise & Plimpton LLP; son Julien (BSBA '00) works for the FDIC.