Professional News
Director of Center for Business Communications Awarded Creative Fellowship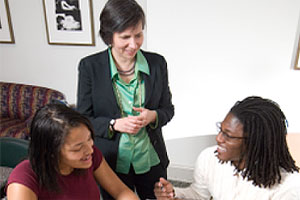 Bonnie Auslander, Director of the Kogod Center for Business Communications, received one of 20 residency fellowships with the Virginia Center for the Creative Arts (VCCA) for spring 2010.
The center helps foster creativity for writers, visual artists, and composers at its retreat at Mt. San Angelo in Virginia. They provide fellows with a private studio, bedroom, and meals in a distraction-free environment.
This will be the third fellowship Auslander has received from VCCA, not including a trip to France the organization also sponsored. 
"I find that the writing I do there fuels me throughout the year," Auslander said. "I have always wanted to get a book published and currently have a manuscript of poems and a book idea based off some of my non-fiction."
Auslander writes her non-fiction for the public radio show "Living on Earth," which airs Sunday afternoons on Baltimore's WYPR 88.1 FM, an NPR affiliate. "I write about the intersection between personal life, especially parenting, and the environment," Auslander said.
She says that she feels like the fellowships help her with her work at Kogod as well. "I am thinking about writing and speaking while there, which is what I coach students to do here," Auslander said.
Auslander will be living at the retreat for two weeks in mid-May.
VCCA fellows are chosen after panels of professional artists review their applications. According to the VCCA's website, fellows are admitted based on their professional achievement or promise of achievement.