Science
In Consulting Practicum, Choices Were Sink or Swim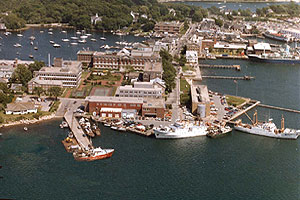 Almost a week after the fall semester ended, Erica Finkelson, Doug Coutts, Lisa Anderson, and Reef Farah were still hard at work on a school project. Coordinating their efforts between Dubai, Florida and Washington, DC , the graduate students were finishing their recommendations for Woods Hole Oceanographic Institution.
The team of second-year MBA students in the consulting practicum had completely overhauled their proposal with only weeks left in the semester, throwing out an idea that wasn't working in favor of a newly discovered alternative.
"None of us were thinking about our grade," said Finkelson. "This wasn't just for [Professor Stephen Day]. It was for a real client, and the project had our names on it."
Woods Hole is the world's largest private nonprofit devoted to ocean research, with an annual operating budget of $160 million. The majority of its funding is tagged for specific government projects, leaving little room for scientists to pursue other interests. The student team was charged with finding ways for the nonprofit to build its discretionary funds.
Only two of the four students knew each other before they began the consulting practicum just 12 weeks earlier; along the way they built a relationship with each other and with Day, their advisor, who sits on the board of the Massachusetts-based organization.
Although they started down another path initially, in the end the students agreed that the best course of action was for Woods Hole to create a for-profit subsidiary. This arm could, among other projects, work with the Federal government to establish regulations for the aquaculture industry – the growing practice of farming fresh and saltwater organisms such as fish and crustaceans.
Aquaculture is largely unregulated and can have a negative environmental impact if antibiotics or waste are mishandled. Yet the practice is growing at a sustained and rapid pace; it's currently one of the fastest growing areas of US agriculture and presents multi-million dollar fiscal opportunity for Woods Hole.
"It needs to be regulated, and it really fit into their culture well," said Coutts.
"Culture was a key component of our project," agreed Anderson. "We had to incorporate their culture into every recommendation we made."
The students also recommended that Woods Hole take on more corporate partnerships, and presented the board with several existing relationships to model. Once they received feedback on the presentation, they adapted their final report – completing it just days before Christmas.
Day thinks their recommendations were on point.
"Woods Hole has the scientific and engineering knowledge to develop the standards for the aquaculture industry," Day said.
"I think they made an impact," he added. "They were jumping straight into the deep end of the pool. [Woods Hole] is a science culture, not a business one."
The students concur that the practicum challenged their collective ability to change course rapidly and cultivated their critical thinking skills to meet the clients' needs.
"The hands-on aspect was very beneficial," said Anderson. "Case studies are always past tense."
"Our ideas focused on their core competencies and how to take their specific strengths and apply them to a solution," Finkelson explained.