Business
Ambassador's Visit Reveals Business Landscape of Morocco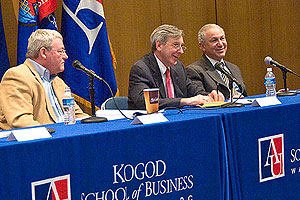 Please note: The 2010 Kogod Case Competition was canceled on Feb. 5 due to severe inclement weather.
At the stroke of midnight on Wednesday morning, 225 students began working as consultants to a suffering production company, "Box-It," a family business based in Morocco.
The students are competing, as teams, in Kogod's 2010 Case Competition where they are charged with developing a solution to a complicated business problem in three days . They will present their "case" to panels of judges - over 60 total - on Saturday.
The teams represent not only Kogod, but also three other schools at AU and three international student teams from France, Germany, and Hong Kong. Competing students have a variety of specializations and range in age and experience from freshmen to master's degree students. Winning teams at both the graduate and undergraduate level will be chosen.
"I am always fascinated with this exercise," Executive-in-Residence Ghiyath Nakshbendi said. "I am glad it is an emerging market in a country where we have a free trade agreement. This is an industry that most people don't have a full understanding of. One of the major points aside from the question of pricing and new marketing is the established family-owned business talking about changing its structure from private to publicly owned."
On Wednesday evening, a panel of experts assembled to lend background expertise and answer questions on different aspects of the case. His Excellency Aziz Mekouar, the Moroccan ambassador to the U.S., shared information on Morocco's economy and trade relations – highlighting the country's focus on free trade agreements over the last two decades and identifying the strong and developing sectors of the economy.
Jim Morgan, President and COO of Interstate Resources, Inc., and John Bacot, VP of Operations for the Association of Independent Corrugated Convertors (AICC), provided the students with their unique insight on the corrugated packaging industry.
"'Box-It' fits the profile of many of our AICC members," Bacot said, while explaining how the association supports with both integrated and independent companies.
Morgan used his experience working with family businesses to emphasize the importance of governance to long-term success. Interstate Resources, Inc. is an integrated paper manufacturer, which Morgan says allows different independent companies to positively influence each other to obtain a "shared destiny."
"The case gives you a real interesting cross-section … there is a broad product range, an international aspect, and the family business," Morgan said.
"The academic environment is wonderful when you are dealing with the theoretical, but the real value is interacting with people," he said of the case study's value to the participants.
A Senior Manager and Activity Based Consulting Expert from Deloitte Consulting LLP, Alex Henry, was the final panelist and examined the accounting and finance perspectives of the case. He explained activity-based consulting, where the consultant helps a company quantify the activities it needs to reach a particular output to have an optimal view of its cost structure and profitability.
After the panel, the students and faculty joined the panelists for a networking reception to ask them questions one-on-one.
"The panel all gave a different view with interesting perspectives in trade and financing," multi-year competitor Jennifer Bryer, SPA/BA '10, said. "This topic was totally outside of my previous knowledge of business, so it was good to hear from people in the industry." She developed some ideas for possible solutions during the panel, but said that they will be kept secret until Saturday.
The panel is just one of many events revolving around the 2010 Kogod Case Competition. Workshops on how to analyze a case and deliver a powerful PowerPoint were held last week. The AU business librarian, Michael Matos, has also been advising students on the best research methods for the case.
The Center for Business Communications is providing teams with feedback on their presentations, with rehearsals taking place all day Friday. Half of the appointments were full by Tuesday afternoon, since pre-registration for the rehearsals was required.
The biggest advice that these professionals give students is this: "You have to highlight the important things and focus the judges on the most relevant solution," Bonnie Auslander said. Her associate, Nancy Sachs, expanded,saying "The judges don't want to know your thought process, just the results. We also like the students to remember that the judges are human and that they want to be here, so smile and be personable."