Business
During Blizzard, Students Focused on Iraqi Project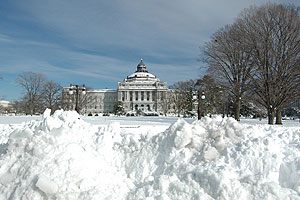 In the wee hours of Tuesday morning, while most Washington, D.C. residents were recovering from the first onslaught of snow and anxiously preparing for the next, 14 members of the Kogod community were focused on a predicament halfway around the world.
The 13 students in Executive-in-Residence Bob Sicina's brand-new Peace Through Commerce practicum held a 90-minute Skype call with a doctor who plans to build a medical lab in Tikrit, Iraq. Based on the conversation, the graduate students will develop a business plan and find funding for the lab, which will initially offer blood testing, mammographies, a self-examination education program, and hydration treatment for burn victims. At present, specimens must be sent 100 miles to Baghdad for processing and many burn victims suffer fatal dehydration.
The students – and their professor – were on the call until 12:30a.m. to accommodate the time difference with Iraq.
"All three student teams on the project have been working together via email and phone to carry on their mission," said Sicina. "They really deserve some credit for going above and beyond." 
Also thanks to Skype, KCCD staff members were able to continue with mock interviews with a half-dozen MBA candidates on Thursday. The students are interviewing in person today with representatives from CSC Consulting, a Falls Church-based IT consulting firm that's looking for both interns and permanent hires.
"Jacques Domenge leveraged the power of web cams and infrastructure to ensure that I was delivering both the right verbal message and the right non-verbal message," said Joel Emmerich, JD/MBA '09. "I'm grateful to have staff in the KCCD ready to use technology like Skype when the need arises."
Meeting the challenge
Another group of 13 students are facing off against a challenge more daunting than 30 inches of snow: they'll represent Kogod at this weekend's 21st Annual Georgetown Ultimate 4 Basketball Tournament, the largest MBA basketball tournament in the country.
The students play Georgetown's McDonough School of Business team at 7:00a.m. sharp tomorrow morning, followed by the University of Pittsburgh's Katz Graduate School of Business, and finally Carnegie Mellon's Tepper School of Business.
"If we win those games, we play in the playoffs on Sunday," explained Jeff Nelson, MBA '10, who organizes intramural sports for Kogod. "Teams are flying in from across the country, so we are hoping their flights don't get delayed!"
Catching up
For other members of the Kogod community, the snowstorm provided a chance to concentrate on an overlooked-but-important project. For the Center for Business Communications, one such project is the BetterBizComm blog, where staff members have posted a half-dozen entries in the last 10 days on topics ranging from case competitions to the foundations of good writing to digital communication.
"Certainly, the downtime has allowed for some reflection and blog posting, which can fall by the wayside during the hustle and bustle of the regular school week," said Peter Levine, senior consultant with the Center. "I also had some time to look over material I had read, reflect on it and draw a connection to our department in a way I might not have otherwise."
Creating an opportunity
Executive-in-Residence Jill Klein's Project Management and Enterprise Process class is commenting on a discussion forum about project planning for inclement weather -- a timely topic that's extremely pertinent to the subject at hand. 
After the setbacks – and creative solutions - spurred by the weather this week, the discussion is bound to yield some cogent observations. Check the Kogod website for story updates.