International
China a Focus of Global Learning in  Year of Tiger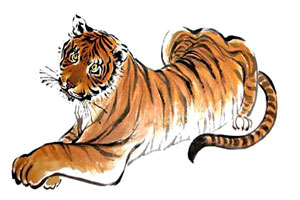 In the Chinese New Year – which begins on February 14 – China has the potential to overtake Japan as the world's second largest economy, according to The Economist.
As the country rings in a new year with a consistent increase in imports that signals a growing domestic -- not just external – demand for goods, the upcoming year of the Tiger, which represents power, courage, and self-assurance, is apropos.
That's why it's more important than ever that Kogod students experience the culture and business climate of the region. And they're going directly to the source in a series of Global Learning Program trips to China and South Korea.
"We want to prepare students to understand the issues of doing business abroad and working with individuals and companies in other countries," said Kari Lininger, Kogod's International Programs Manager.
Graduate students will spend two weeks in Seoul, Beijing, and Shanghai, visiting cultural landmarks and making site visits to global companies. The short-term study abroad trip, led by Professor Tomasz Mroczkowski, is held in conjunction with an on-campus course: International Dimensions in Management (IBUS-744).
Giselle Rayner, MBA '12, decided to wait to take IBUS-744 until she learned about the trip's destination this semester. "Asia, specifically China, is emerging as a new economic powerhouse and the opportunity to gain hands on experience with local businesses was something that I couldn't pass up," Rayner said.
"When choosing specific locations, we think about what will most benefit our students post-graduation," Lininger agreed. "Our students will see firsthand the different approaches U.S. firms have used to invest in China, and how domestic Chinese firms are making their mark on the world stage."
The site visits on the trip range from the Korea Development Institute to GE Healthcare to Adidas China, and, of course, the Great Wall of China. "I am excited about the company trips, particularly the one to Wal-Mart," Hanna Felleke, MBA '11, said. "I'm curious if the company has a similar affect in Asia as it does in the US."
According to Lininger, students in the class are participating in discussions with guest speakers, including representatives from the embassies in DC, and analyzing cases from the region in preparation for the trip. The course will end with a student-designed final project which will focus on the students' unique career objectives, for example the study of a particular industry in China.
"I'm very interested in working in emerging markets after graduation, specifically with small to medium enterprises and how they contribute to the development of their local economies," Denise Phelps, MBA/MA '12, said.
"China is an excellent example of a market that did not have an overwhelming foreign direct investment in their development, so experiencing their business models will help me compare them with other countries that have a long history of foreign direct investment."
A similar undergraduate program to China, led by Executive-in-Residence Bob Sicina, will visit Shanghai, Ningbo, and Beijing from May 9-20.
Their current itinerary includes site visits to: Zhangjiang Group, a leading hi-tech research industry park, Zhong Guang Cun (China's Silicon Valley), and Lenovo, where students will interact with technology of the future. 
This will be Sicina's fifth time leading the undergraduates' trip to the country. 
"I have had the opportunity to watch the impressively rapid development of China over the last 6 years," Sicina said. "The real growth of China overall, and the substantial reduction of broad based poverty, has happened in the interior cities. Most people don't know that there are only nine cities in the U.S. with a population over 1 million while there are 325 in China."