Education
Student Experience is Top Priority at Kogod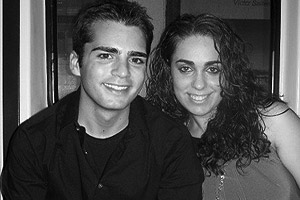 When Tom Reedman started as a freshman at AU, he planned to study finance with the goal of eventually working on Wall Street. Spending a semester in Spain during the fall semester of his junior year changed things.
"I realized that finance wasn't necessarily my route," Tom explained. "I wanted to focus more on international marketing."
As an honors student, Tom faced a challenge: he wanted to return to Spain, but he needed to complete his capstone project and earn all of his honors credits. So he went to Jesse Boeding, assistant dean of undergraduate programs.
Boeding helped him create an interdisciplinary specialization so that he could retain the credits he'd already earned in finance; he graduated with honors, with specializations in finance and international marketing and a minor in Spanish. By taking his marketing courses in Spain, he was even able to graduate a semester early -- lessening the financial burden of studying abroad for two full semesters.
"Jesse was a big help in the process," Reedman said. "I believe that Kogod is equipped with staff that can help if the student takes the initiative to look for advice."
Julia Kasyuk, BSBA '08, agrees. Kasyuk, like Reedman, also took Boeding's advice to work in a second semester abroad – a decision that allowed her to graduate abroad and travel throughout Europe, something she considered top priority.
"Having an international marketing class at AU isn't the same as taking an international marketing class in London with a British professor," Kasyuk explained.
It's this dedication to students that led the Kogod community - including the Office of Undergraduate Programs – to cry foul at the results of a nationwide report released last week that found Americans increasingly believe colleges operate more like a business, focused on the "bottom line" rather than students' education. The findings suggests that many Americans are becoming more skeptical about whether colleges and universities are doing all that they can to control costs and keep tuition affordable, according to Public Agenda, the research nonprofit that co-sponsored the study with The National Center for Public Policy and Higher Education.
Dean Richard M. Durand wrote a rebuttal, entitled "Business Isn't a Four-Letter Word," on his blog; Boeding compiled a list of top ways to maximize the experience – while minimizing cost - of a Kogod degree.
Business isn't bad
"We do run our office like a business," said Derek Hewlett, an academic assistant in the Office of Undergraduate Programs and Kogod graduate student. "It's like a business that we think of our students and their families as our first priority. We care about providing services that meet their expectations, and are in accordance with our mission and values."
Dean Durand agrees.
"Remaining student centric is what keeps colleges relevant year after year. Those that lose track of the needs of their students will reap the long-term losses," he said. "But the idea that colleges applying business principles inherently undermines the quality of the student experience is fundamentally flawed."
That's why Dean Boeding's team continually counsels students on making the most of scholarships, whether taking summer courses is a wise investment, and works closely with the Kogod Center for Career Development to ensure that students realize the marketplace value of extra degree components. "We work with students to make sure that they are utilizing their time at AU wisely instead of racking up unnecessary tuition bills," Boeding said.
In some cases, their advice helps a student fulfill a dream that otherwise might not have been possible.
"I got the chance to have a lot of really cool experiences because I graduated early," said Kasyuk. "I don't know if I would have had the chance to have them without Jesse."
Early Graduation

If a student takes just one extra credit each semester – within the 17 credits that are paid for – he or she would graduate a semester early, like Reedman did.
Boeding's staff also encourages prospective, admitted, and transfer students to take Advanced Placement exams or community college courses and transfer the credits to AU.
This focus on efficiency, understanding the marketplace value of degrees, and sticking to a budget are representative of Kogod's personal finance initiative, a commitment to increasing financial literacy among students to provide them with vital life skills they'll need from graduation through retirement.