On Campus
Top Ways to Minimize the Cost of Your Degree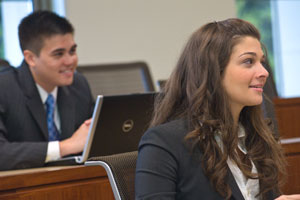 Assistant Dean for Undergraduate Programs Jesse Boeding compiled a list of ways undergraduates can make the most of their educational investment. Read more about what the Undergraduate Programs Office does for students here.

Take Advanced Placement classes in high school and earn the required grade on the AP exam to receive college credit.
Take local college credits as a high school student in lieu of study hall; many such classes will transfer for credit towards your degree.
Job shadow to gain a clearer perspective on your career options.
Go to a community college first (work with a four year school to make sure that the credits will count) and maximize the number of credits that you will graduate with. You can earn the same degree at a fraction of the price.
Max out the number of credits that you can earn each semester. If you are paying for 17 credits, take 17 credits.
Pass every class that you take! Use the free tutoring and supplemental assistance in all of your classes.
Figure out how much each incremental semester is going to cost you and try to cut down on one semester. Learn what the proportion of your monthly student loan payment will be to your net monthly income after graduation.
Have a goal and understand the components of the educational system that will help you attain your goals.
Work with your academic and career advisor to ensure that you are taking classes that are getting you closer to graduation and your career goal. Be clear what the focus is – to save money, to get a specific job, to have a specific experience.
Get a paid internship every summer.
When available, take advantage of opportunities to save on room and board. If your dorm buildings have kitchens, practice your cooking skills. It will benefit you to be familiar with cooking and living more independently (off campus) when you graduate.
Shop around for your textbooks. Many used texts are available at a discount from the campus store or from online retailers. Another option is to rent your texts for even less money -- that way you won't have to hold onto them after the course ends.